Heal Your Inner Wounds by Abby Wynne
Author:Abby Wynne , Date: July 1, 2020 ,Views: 232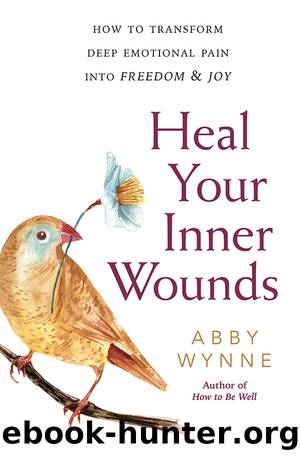 Author:Abby Wynne
Language: eng
Format: epub
Tags: CVR05112018;abby wynne;abbie wynne;abby wynn;abbie wynn;healing emotional wounds;how to heal emotional wounds;healing past trauma;healing past wounds;healing your inner wounds;emotional healing;how to heal yourself
Publisher: Llewellyn Worldwide, LTD.
Published: 2019-02-19T15:04:26+00:00



[contents]
Chapter 5
The Divine
Masculine
This chapter is about getting in touch with the masculine energies and healing the wounding that stems from there, which could happen at any stage of your life.
I will not pretend to be a man, nor will I pretend to know what it feels like to have a man's body. However, we are all a combination of masculine and feminine energies, and I have worked with both energies with women and men.
A woman whose Divine Masculine energy is out of balance can be angry, forceful, and hard on the inside. Her emotions shut down and she focuses on action and achievement. A man whose Divine Masculine is out of balance is the same. We are all human and we need to learn how to support each other and to heal.
So no matter your gender, read the following chapter with an open mind, heart, and soul. Allow your Divine Feminine and Divine Masculine energies a chance to activate within you and have their say.
Here I work with the Divine Masculine, and though this chapter is written for all readers, I address it to the men. Having a strong Divine Masculine energy within me and having worked with many male clients, the content is very familiar to me. I urge all women to read this chapter just as I urge all male readers to read the previous chapter on the Divine Feminine so that we can understand the blending of the energies we are all composed of and learn how to balance them better.
We are all different: different cultures, different histories, different contracts and blueprints to our souls. There are different blends within each individual—the masculine woman, the feminine man; it's not that they are out of balance, it's just the way the masculine and feminine have mixed within. No matter what sex your body is, no matter whether you're more feminine than masculine or the other way round, the key to healing anything is stripping away the lies and standing in the truth. Being authentic inside and out.
Compared to the knowledge out there about the Divine Feminine, it seems as if there is little to no information available about the Divine Masculine energy. Women tend to talk and share to support each other; they write about how to do this and teach others to do the same. Women's circles span back centuries, and the wise woman or crone was always a figurehead in the community. Not so for men. Men's sheds are only becoming more common of late, and men are still figuring out what they need to be, and how to support other men and boys in their masculinity as they awaken. This in itself is part of the wounding of the Divine Masculine—the "shut up, buck up, shape up, and get on with it" attitude of the male stereotype. It creates an environment where men bottle up their feelings, stand up tall and strong, and do what they think they have to do without really knowing who they are and what they are capable of.
Download


Copyright Disclaimer:
This site does not store any files on its server. We only index and link to content provided by other sites. Please contact the content providers to delete copyright contents if any and email us, we'll remove relevant links or contents immediately.