Guerrilla Marketing for a Bulletproof Career by Jay Conrad Levinson & Andrew Neitlich
Author:Jay Conrad Levinson & Andrew Neitlich , Date: May 5, 2021 ,Views: 37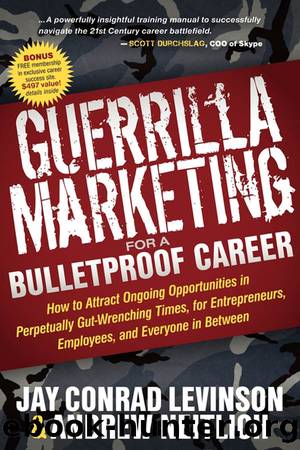 Author:Jay Conrad Levinson & Andrew Neitlich
Language: eng
Format: epub
Publisher: Morgan James Publishing
Published: 2010-05-14T16:00:00+00:00



PART III:
THE AGILE
CAREER
GUERRILLA
CHAPTER 25
HOW TO BE AN AGILE
CAREER GUERRILLA
If you have followed the advice offered so far, you are on the right course to create a bulletproof career for yourself. You are doing the right things to get into the opportunity flow. You have the right perspectives to evaluate and succeed in opportunities that come your way. Now it is time to take the final step and become an agile career guerrilla.
In athletics, agility is the ability to rapidly accelerate, decelerate, and change directions. Agility can make the difference between winning and losing a game, especially those that involve chaos, where an almost infinite number of scenarios can happen during play. Sports like football, tennis, soccer, volleyball, hockey, wrestling, martial arts, and basketball all require agility.
Similarly, software developers practice what they call agile development. Done properly, this means building a software program incrementally and constantly improving it. Netscape may have been the first company to do this when they released a good enough version of their pioneering Web browser, received feedback from tens of thousands of users, and then released the next version for feedback. They kept repeating this cycle of release-and-improve and, for a time, dominated the market. Agile development is a continuous work in progress, nimbly adapting and responding to user advice and changing requirements.
Likewise, huge companies also value agility. Executives need systems, processes, and people to change seamlessly with the market and ahead of the competition. Instead of acting like a giant ocean liner changing direction with a huge and slow turn radius, big companies need to dart like speedboats.
Athletics, software development, and leading large companies all relate to your own career. The agile career is a constant work in progress. You rapidly adapt to opportunities, threats, and the occasional ambush, all while pursuing your dreams and passion. You head toward your overall goals while building and adjusting as you go. The agile career guerrilla is not attached to traditional definitions of status, including the concept of having a job. Many people still think having a job is the best way to be secure, save for retirement, enjoy prestige, and move up in life. With some jobs this may be true, and there are times when it is ideal to have a job. However, I know many people who haven't had a formal job for years, who have more time, make more money, and enjoy their work one thousand times more than most people with a job. I am one of them. I had two jobs after college and then three jobs after business school. Since then, I've worked at home as an entrepreneur, consultant, author, and publisher. My wife does the same. We spend no more than three to five hours working every weekday. We play tennis four times a week during the day, drop off and pick up our kids every day at school, and never miss one of our kid's swim, tennis, or piano practices. I couldn't care less about my formal job title, how big my office is, and whether I get a company car or not.
Download


Copyright Disclaimer:
This site does not store any files on its server. We only index and link to content provided by other sites. Please contact the content providers to delete copyright contents if any and email us, we'll remove relevant links or contents immediately.