Girl A: The truth about the Rochdale sex ring by the victim who stopped them by Anonymous (Girl A)
Author:Anonymous (Girl A) [Anonymous (Girl A)] , Date: October 18, 2020 ,Views: 43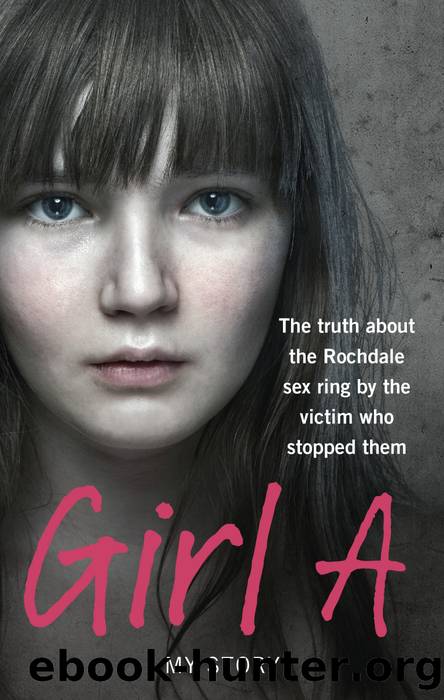 Author:Anonymous (Girl A) [Anonymous (Girl A)]
Language: eng
Format: epub
Tags: Non-Fiction, True Crime
ISBN: 9781448175024
Publisher: Ebury Publishing
Published: 2013-04-22T14:00:00+00:00



Chapter Fifteen
Two Blue Lines
Christmas was fast approaching. As if my life couldn't get any worse, on 11 December – when the cheerful, festive Iceland and Asda adverts were running back-to-back on TV – came another event that threw me into an even deeper despair.
I'd gone to Crisis Intervention in Taylor Street, though this time with Robyn rather than Emma because she'd gone off to see a 'boyfriend' on her own. I had a pregnancy test, and I remember Jane sitting there with the testing kit in her hand, her hand over the panel that gives the result. 'What will you do if it's positive?' she asked, with a gentle smile. It was an innocent question, but in my mind I started to panic. It must have shown on my face.
Slowly she opened her hand, looked for the tell-tale lines, and suddenly stopped smiling. She looked flustered, rising to her feet and saying, 'I just need a second opinion on this.'
As she left the room I thought, It will be fine. If she's not sure, it must be all right.
She came back a couple of minutes later and said, 'Look Hannah, I think it's positive, but I can't be sure. We'll have to do a second test in the morning.'
The plan was for her to meet me at school the next day, and carry out the second test. I wasn't to have a wee in the morning when I woke up, she said, because the first of the day was always strongest. That way there would be no doubt.
I was back and forth between Harry's place and home at that time (Emma must have realised I was in the gang's grip so fast it didn't matter if I went home occasionally) and a queasy feeling took hold of me as I walked home. I didn't know what to think.
When I woke up the next morning, Mum thought I looked a bit peaky and asked if I wanted to stay off school – I could help her with the shopping, if I wanted.
'No,' I said. 'I need to go to school.'
She looked astonished and exasperated all at once. 'But normally we can't get you there,' she said. Then I told her I was seeing Jane, and she started to catch on. She knew who Jane was, and what her job involved, and she knew school wasn't exactly my favourite place.
Her face clouded. 'You're not pregnant, are you?' she asked.
'No, no,' I said, but not with any real conviction.
So she told Dad, and Dad sent Lizzie off to the local shops to buy a tester kit. She came back with two, in fact. Maybe she thought the second one would come in handy another time.
Mum wasn't taking any chances. A few weeks before I'd had another scare, but that time I had dipped it in the toilet bowl to make sure it said negative. Mum never said anything, but this time Dad said: 'Make sure she does it properly.' I was so wayward then, he knew he couldn't trust me.
Download


Copyright Disclaimer:
This site does not store any files on its server. We only index and link to content provided by other sites. Please contact the content providers to delete copyright contents if any and email us, we'll remove relevant links or contents immediately.