Fastpitch by Erica Westly
Author:Erica Westly , Date: August 19, 2016 ,Views: 690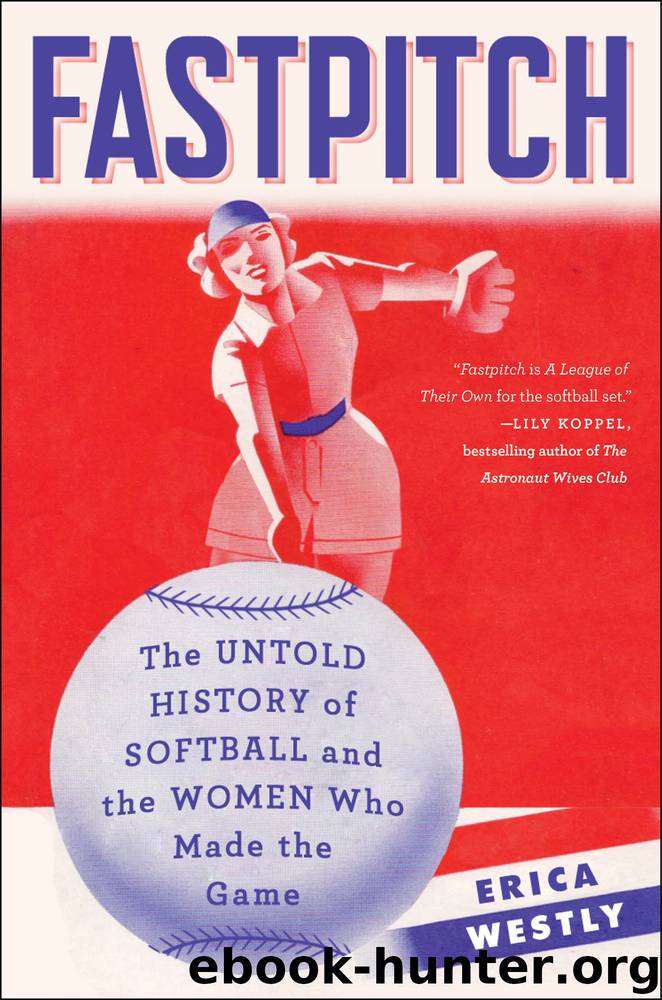 Author:Erica Westly
Language: eng
Format: epub
Publisher: Touchstone



CHAPTER 12
It is true that each individual has certain limits beyond which she cannot develop, but few indeed are those who ever reach or even approach these upper limits.
—Softball for Girls
· · ·
Joan was ready for the next stage in her athletic career. Several of her former teammates had moved on to full-time coaching jobs, but at thirty-four years old, Joan was still in her prime physically, and she wanted to keep competing. She couldn't help but be a little envious of the fame and financial success that female golf and tennis players were starting to attain. Billie Jean King, the tennis player, had recently become the first female athlete to earn $100,000 a year. Joan, meanwhile, shared a house with her sister and ran a small travel agency to bring in extra income.
In September of 1974, she accepted an invitation to participate in the first Women's Superstars, a televised contest that featured top athletes competing against each other in different individual disciplines, such as swimming, bowling, and cycling. King had helped organize the event. There had already been two Men's Superstars competitions, and she thought there should be one for female athletes, too. King had become a tireless promoter of women's sports. She was leading the crusade for equal pay in women's tennis, and earlier that year she had founded the Women's Sports Foundation, a nonprofit that aimed "to advance the lives of women and girls through sports and physical activity."
The Women's Superstars competition was an extension of those other efforts, and even though the premise was kind of silly, the broader purpose—to call attention to female athletes outside of tennis, golf, figure skating, and gymnastics—was serious. It was probably the most high-profile event that Joan had been involved with so far. She had received a fair amount of media coverage over the years, but it was sporadic and mostly regional. Outside of New England, few people knew who she was unless they were softball fans, and fewer of those were around as the 1970s progressed. The competition was also offering prize money: the winner stood to earn tens of thousands of dollars, which was a significant amount for most athletes at the time.
Thus Joan spent the weekend before Christmas that year at the Astrodome in Houston, running through an obstacle course, riding a bike, and shooting hoops alongside King and twenty-one other competitors. Each contestant competed in seven events, none of which could be her primary sport, which meant Joan was ineligible for the softball throw. She excelled in the basketball and bowling events, though, which won her some prize money and helped her secure one of the twelve spots in the finals, which were held in Florida a month later.
Joan didn't do as well in the finals. She aced the basketball and bowling portions again, but she faltered in the swimming, rowing, and tennis events. She finished in eighth place, earning a combined total of about $6,500, which she was allowed to keep, thanks to a recent
Download


Copyright Disclaimer:
This site does not store any files on its server. We only index and link to content provided by other sites. Please contact the content providers to delete copyright contents if any and email us, we'll remove relevant links or contents immediately.