Ellery Queen's Mystery Magazine, Vol. 128, No. 5. Whole No. 783, November 2006 by unknow
Author:unknow , Date: September 17, 2020 ,Views: 16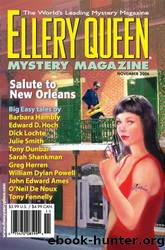 Author:unknow
Language: eng
Format: epub
Tags: detective
Publisher: Dell Magazines
Published: 2006-01-01T05:00:00+00:00



Arnold Venable had been the department chair for eons before Diana took that post, and few were the toes he hadn't mangled. Even when young, which he certainly wasn't anymore, Arnold had been imperious, affecting a British accent, grandly furnishing his office with Persian carpets, subdued lighting, and a slender walnut desk. Arnold didn't hold office hours; he received. He held court. And he'd long ago perfected the art of slipping a silver dagger into one's soft spots, his targets universal. University president to office cleaner, no one escaped Arnold's withering blue gaze or razor tongue.
Immediately upon succeeding Arnold as chair, some six years earlier, Diana had been swamped by the English faculty's campaigning for a piece of the pie of privileges he'd hoarded.
"Not fair that Arnold never takes a lower-division class."
"Not fair that he's had a lock on Shakespeare and the Romantic poets from time immemorial."
Diana couldn't agree more, having herself suffered from Arnold's barbs and slights, and drawing up that next term's class load, she assigned Arnold a section of English 101. Freshman grunt composition. Arnold refused it, sneering as if she'd handed him a bag of manure.
Fine. So be it. And, as was the university policy, Arnold taught less than a full load, though for full pay.
This pattern had continued year after year, with Arnold accruing an ever-growing debt of classes owed.
Just a week after Rob's announcement of his application to Livingston College, Diana had casually, ever so coolly, brought up The Arnold Situation at lunch with an administrative dean.
He'd jumped. "We absolutely must do something. Just yesterday the president was laying down the law about tightening all financial belts, closing all loopholes. Now." He'd leaned closer to Diana. "Do you have any ideas?"
Why, yes, she did.
"Three sections of 101?" Arnold had slammed through Diana's office door without knocking. He'd delivered the question as if she were a ridiculous child who'd donned a clown outfit for a wedding.
"Yes. Three. Close the door, Arnold. Come in and sit down."
Then Diana had the delicious pleasure of explaining to Arnold Venable that he'd reached the end of the line. Administration had done the toting — she handed the figures across her desk to him — and he was in arrears for so many classes untaught but salaried that he must a) teach whatever offered with zero compensation for the next two years, b) pay back the money advanced, or c) take early retirement, effective the end of the term, and the debt would be forgiven.
Within hours Arnold had begun packing the leather-bound tomes that lined the walls of his office.
Oh, what sweetness, what joy as, later that same evening, just as Rob, spent from love-making, sleepily pulled up the sheets, she whispered into his ear, "Guess what?"
And wasn't it terrific that they'd been so discreet, that no one at the university knew that they were lovers? Now Rob's application for the position could be tendered like any other candidate's.
Any other, except, of course, that he had the advantage of being a known quantity.
Download


Copyright Disclaimer:
This site does not store any files on its server. We only index and link to content provided by other sites. Please contact the content providers to delete copyright contents if any and email us, we'll remove relevant links or contents immediately.