Doctor Who - New Series Adventures - 047 - Touched by an Angel by Jonathan Morris
Author:Jonathan Morris , Date: April 9, 2021 ,Views: 19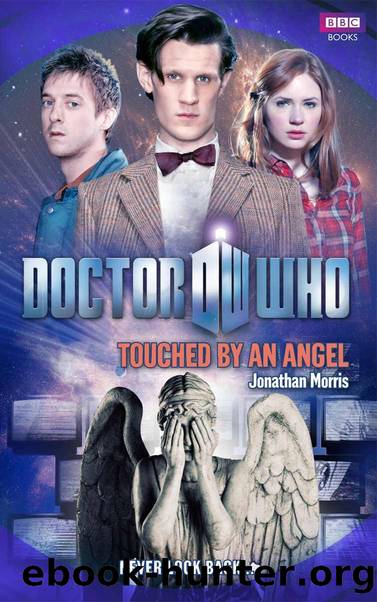 Author:Jonathan Morris
Language: eng
Format: mobi
Tags: Science Fiction, Action & Adventure, Media Tie-In, Fiction
ISBN: 9781849902342
Publisher: BBC Books
Published: 2011-06-23T07:00:00+00:00



'Sorry about all this.'
'What are you apologising for?' said Rebecca, still enchanted by the view. As the sun had set, the colour of the ruins had shifted from orange to a dusky red. The air smelt of ancient ruins and pine trees. 'Besides, how many people get to see this? Luckiest thing, being locked in.'
'It's been a lucky day, overall,' said Mark, joining Rebecca at the balcony. From here, there wasn't a single modern structure in sight. No office blocks, no street lights, nothing.
'Yeah,' laughed Rebecca. 'Must be fate.'
'Can I ask you a question?'
'Go for it.'
'All the stuff that's happened today, anyone else would've been mad at me, but you… you were OK about it. Why?'
Rebecca swept back her hair while she considered her answer. 'Seriously? The way I see it, after what happened with Anthony, I could've got all paranoid and bitter. But then he'd have won, he'd have changed me into a worse person. And after hearing you talk about all the stuff you've been through, with your dad and everything, it kind of put my woes into perspective. Life's too short to be miserable, basically. If you can be happy, then be happy.'
'Seize the day?' said Mark.
'Exactly. Seize it, baby.' Rebecca turned towards him with an expression he'd seen once before, on the terrace of the students' union.
His stomach trembling, Mark leaned forward and kissed her.
Rebecca responded, kissing his lips as he kissed hers, gently, precisely, before finally pulling away. 'That's not quite what I meant,' she said.
'No?'
'No. But it's a good start.' Rebecca gave him a conspiratorial smile. 'You know, we could very easily be locked in here all night…'
Download


Copyright Disclaimer:
This site does not store any files on its server. We only index and link to content provided by other sites. Please contact the content providers to delete copyright contents if any and email us, we'll remove relevant links or contents immediately.