Delphi Complete Works of John Milton (Illustrated) (Delphi Poets Series) by John Milton
Author:John Milton [Milton, John] , Date: February 26, 2017 ,Views: 538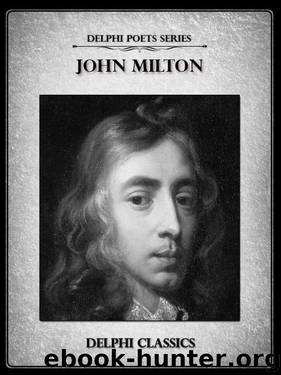 Author:John Milton [Milton, John]
Language: eng
Format: epub, mobi
Publisher: Delphi Classics
Published: 2012-10-13T04:00:00+00:00



CHAPTER IX.
OF THE SPECIAL GOVERNMENT OF ANGELS.
THE general government of Providence has been hitherto the subject of consideration. The special governnent is that which embraces with peculiar regard angels and men, as beings far superior to the rest of the creation.
Angels are either good or evil, Luke ix. 26. viii. 2. for it appears that many of them revolted from God of their own accord before the fall of man. John viii. 44. 'he abode not in the truth, because there is no truth in him: when he speaketh a lie, he speaketh of his own, for he is a liar, and the father of it.' 2 Pet. ii. 4. 'God spared not the angels that sinned.' Jude 6. 'the angels which kept not their first estate.' 1 John iii. 8. 'the devil sinneth from the beginning.' Psal. cvi. 37. 'they sacrificed unto devils.'
Some are of opinion that the good angels are now upheld, not so much by their own strength, as by the grace of God. 1 Tim. v. 21. 'the elect angels,' that is, who have not revolted. Eph. i. 10. 'that he might gather together in one all things in Christ, both which are in heaven and which are on earth.' Job iv. 18. 'his angels he charged with folly.' See also xv. 15. Hence arises, in their opinion, the delighted interest which the angels take in the mystery of man's salvation; 1 Pet. i. 12. 'which things the angels desire to look into.' Eph. iii. 10. 'that now unto the principalities and powers in heavenly places might be known by the church the manifold wisdom of God.' Luke ii. 13, 14. 'a multitude of the heavenly host praising God,' namely, on account of the birth of Christ, xv. 10. 'there is joy in the presence of the angels of God over one sinner that repenteth.' They assign the same reason for their worshipping Christ. Heb. i. 6. 'let all the angels of God worship him.' Matt. iv. 11. 'angels came and ministered unto him.' Philipp. ii. 10. 'at the name of Jesus every knee should bow, of things in heaven-.' 2 Thess. i. 7. 'the Lord Jesus shall be revealed from heaven with his mighty angels.' 1 Pet. iii. 22. 'angels being made subject unto him.' Rev. v. 11, 12, 'worthy is the Lamb that was slain.' It seems, however, more agreeable to reason, to suppose that the good angels are upheld by their own strength no less than man himself was before his fall; — that they are called elect, in the sense of beloved or excellent; — that it is not from any interest of their own, but from their love to mankind, that they desire to look into the mystery of our salvation; — that they are not comprehended in the covenant of reconciliation; — that, finally, they are included under Christ as their head, not as their Redeemer.
For the rest, they are represented as standing dispersed around the throne of God in the capacity of ministering agents.
Download


Copyright Disclaimer:
This site does not store any files on its server. We only index and link to content provided by other sites. Please contact the content providers to delete copyright contents if any and email us, we'll remove relevant links or contents immediately.