Daddy's Little Prize (Daddy Series Book 22) by Lila Fox
Author:Lila Fox [Fox, Lila] , Date: May 27, 2023 ,Views: 20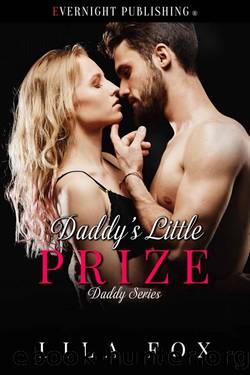 Author:Lila Fox [Fox, Lila]
Language: eng
Format: epub
Publisher: Evernight Publishing
Published: 2022-07-28T18:30:00+00:00



Chapter Ten
Alexa stared at Gavin. She couldn't understand or believe how much calling him her daddy meant to her. It was like something inside of her settled, and she felt whole for the first time in forever. She wanted to do everything she could to make him happy, and she desperately wanted him to have her cherry. The only one who would ever get it. Him being the first to fuck her would be something she'd never forget.
Her body had ached since she met him, and it was only getting worse as time went by. Whenever he touched her or even looked at her a certain way, her need for him spiked. If he could make it stop, she would beg him to do that.
"Come here, baby." He pulled her into his arms, tilted her head back with a hand under her chin, and kissed her. The kisses got harder and deeper as the seconds passed, and by the time he raised his head, she was breathing heavily, and her heartbeat raced.
"Daddy." Her grip on his arms tightened. "Please don't stop."
"I know, baby, I'll make you feel better. Just hang on to me."
She clutched at his t-shirt and then gasped when his hands slid under her nightgown and settled on her breast. The heat from the palm of his hand felt like it scorched her, but in a good way, and she wanted him to keep on touching her like that.
"Baby, we're going to go slow. I'm going to undress you, and then I'll pull off my clothes. Are we good so far?"
"Yes, please hurry."
He chuckled as he pulled her nightgown over her head and dropped it on the floor behind him. Then he pulled his t-shirt and his shorts off. He hid his lower body from her, but she wanted to see it and kept trying to push the blanket down.
"I want to see you, Daddy."
"And you will," he said. "Just not right now. I don't want you scared."
"Why would I be scared?" she asked.
He got a painful look in his eye that she didn't understand. "Just take my word for it, baby. Remember, I'm the one in charge."
She nodded.
"You're so beautiful." His hand ran up and down her torso. He moved lower and stuck his finger in her belly button, making her giggle.
"Stop tickling me," she said.
He grinned. "Okay, now we're going to go a little bit further. Tell me if you need me to stop."
She gasped as his fingers slid down, and one of them slipped through her pubic hair, between her pussy lips, and pressed down on something, making her arch and scream.
"Oh, my God, what are you touching?" she asked.
He chuckled. "I'm touching your clit, baby."
"I didn't know what could do that or make it feel like that."
"I'm going to make you feel things you never thought possible, and every one of them will make you feel good."
"Then hurry," she said.
His finger pressed on her clit several times, and it would circle it, making her desire rise, and the ache inside of her deepened.
Download


Copyright Disclaimer:
This site does not store any files on its server. We only index and link to content provided by other sites. Please contact the content providers to delete copyright contents if any and email us, we'll remove relevant links or contents immediately.