Courage Is Calling by Ryan Holiday
Author:Ryan Holiday [Holiday, Ryan] , Date: March 18, 2023 ,Views: 103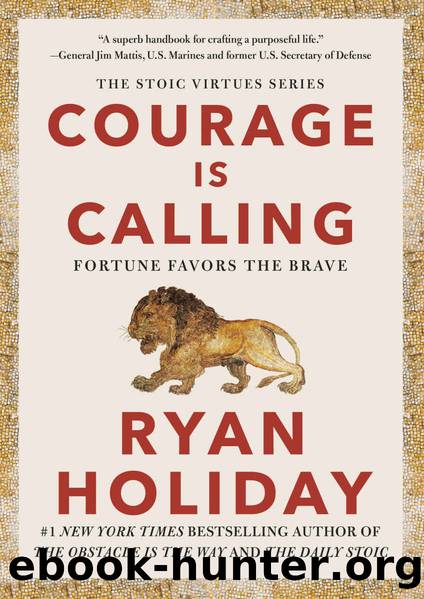 Author:Ryan Holiday [Holiday, Ryan]
Language: eng
Format: epub
Tags: stoicism
Publisher: Penguin Publishing Group
Published: 2021-09-27T22:00:00+00:00



Courage Is Contagious
When another country called on Sparta for military help, the Spartans wouldn't send their army. They sent one Spartan commander.
This was all it took.
Because courage, like fear, is contagious. One person who knows what they are doing, who isn't afraid, who has a plan is enough to reinforce an outnumbered army, to buck up a broken system, to calm chaos where it has taken root. And so a single Spartan was all their allies needed.
So goes the story about the Texas Ranger Bill McDonald, called in by the authorities in Dallas in the early 1900s to break up an illegal prizefight. When he arrived, the mayor was aghast. "They only sent one ranger?!" he asked. "You only got one riot, don't you?" McDonald replied.
This is the truth of that saying we talked about earlier come to life: One man with courage makes a majority.
Because "makes" is the operative word. It doesn't start that way . . . it becomes that way.
You don't have to be a Spartan general or a Texas Ranger to make a difference either. The combat historian and U.S. Army officer S. L. A. Marshall would say that "no matter how lowly his rank, any man who controls himself contributes to the control of others. . . . Fear is contagious but courage is not less so."
You don't have to be the smartest guy in the regiment. Or the biggest. Or the best shot. You don't have to have all the answers. You just have to keep yourself in check. You have to do your job in the moment, let your training guide you. You do what's right, what is immediately in front of you, bravely, calmly, clearly.
Whoever you are. Whatever you do.
The citizen who is not distracted by manipulative propaganda helps hold the government accountable, the person who does not make a run on the bank when the market dips helps keep the economy going, the parent who puts on a brave face helps their child fight cancer. Just as the ordinary soldier helps their comrades and hurts the enemy by cinching on their helmet, clenching their chattering teeth, and refusing to consider retreat. As Marshall said, "The courage of any one man reflects in some degree the courage of all of those who are within his vision."
You make a difference when you are brave. Because you make others brave in the process.
Like a virus, calm spreads by contact. It spreads through the air. We exude it, shedding our excess strength onto others, infecting them as they in turn infect others—not with a degrading, harmful agent, but one that builds strength and purpose.
When everything is charged with fear, a spark can ignite a panic. It can ensure demoralization and then defeat. But just as easily, one person can ground out this dangerous electrical current. One person can turn things around.
The question for you, then, is are you that person? Are you part of the problem or can you be the solution? Are you the
Download


Copyright Disclaimer:
This site does not store any files on its server. We only index and link to content provided by other sites. Please contact the content providers to delete copyright contents if any and email us, we'll remove relevant links or contents immediately.