China's Opening Society: The Non-State Sector and Governance by Yongnian Zheng & Joseph Fewsmith
Author:Yongnian Zheng & Joseph Fewsmith [Zheng, Yongnian & Fewsmith, Joseph] , Date: August 6, 2022 ,Views: 3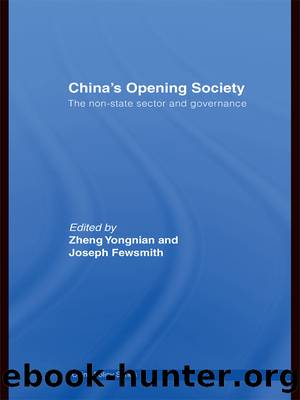 Author:Yongnian Zheng & Joseph Fewsmith [Zheng, Yongnian & Fewsmith, Joseph]
Language: eng
Format: epub
Tags: Political Science, Public Policy, General
ISBN: 9780415451765
Google: 9tc2qw0y6-QC
Goodreads: 3255281
Publisher: Routledge
Published: 2008-01-15T07:07:16+00:00



The media and governance in China
Although they remain fundamental to the political process, the media in China fulfil very different functions and responsibilities. Their autonomy is limited, and they have little opportunity to openly challenge state power; rather the Chinese media are required to play specific roles on behalf of the state. This facilitates authoritarian-based governance, but societies following a programme of modernisation and development require a more democratic model of media involvement in the political process.
It is difficult to imagine how authoritarian governments could survive without devoting serious resources to influencing and controlling systems of communication. Lacking the political legitimacy enjoyed by democratic governments, authoritarian regimes depend on communications to reinforce their political and coercive power. Systems of communication rarely extend beyond transmitting, framing and interpreting for the audience the decisions and actions of the government. They facilitate political recruitment, socialisation and mobilisation; hence, communications have distinct social and political responsibilities of social control and nation-building that are consistent with the development priorities and ideological assumptions of the regime. For example, in 1999 C. Rozzario, Director of the Public Affairs Division (Singapore Ministry of Home Affairs) justified his government's strict management of communications by claiming that, "In a multi-racial and multi-religious Singapore, we cannot put at risk the racial harmony and sense of public order, peace and safety built up over the years."10 Hence, the state called for the adoption of a nationalist ideology to forge a common bond among its people. This ideology, communicated through media and education, is built around five pillars that reflect the collectivism at the heart of Singapore's commitment to "Asian values," namely nation, family, community, consensus and harmony. This ideology is justified as a "safeguard against undesirable values permeating from developed countries."11 Singapore is one of many authoritarian regimes, including China, that worry about the chaos that pluralism and freedom of information may introduce to their country, upsetting not only its development strategies, but also its cultural foundations (national communications are therefore tasked with resisting "cultural imperialism"). Many regimes have therefore decided that nationalisation of the media allows the most efficient form of state management. Since 1960, the Cuban state has owned and controlled all media to serve its political agenda.12 Suharto's government in Indonesia designed its national television network in 1962 around a specific developmental programme that required its people to identify closely with the regime. The Indonesian government required the media to help foster a sense of national unity, with television sets located in village halls across the country showing state-controlled programming.13 This meant that the government-decided broadcasting could encourage national identity and unity through the communal experience of watching centrally planned programming.
Alternatively, state control of the media may help to depoliticise and demobilise a population, sapping their energy, generating passivity and depriving people not only of a voice, but also of stimuli that might activate them. In authoritarian Spain, for example, "the primary result of media control was to secure the passive acquiescence of the Spanish population rather than to resocialize the citizenry into active participatory roles" (emphasis added).
Download


Copyright Disclaimer:
This site does not store any files on its server. We only index and link to content provided by other sites. Please contact the content providers to delete copyright contents if any and email us, we'll remove relevant links or contents immediately.