Cecily's Portrait by Adele Geras
Author:Adele Geras [Geras, Adèle] , Date: July 23, 2020 ,Views: 123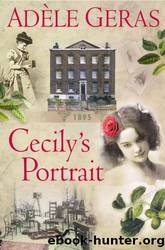 Author:Adele Geras [Geras, Adèle]
Language: eng
Format: epub
Publisher: Usborne Publishing Ltd
Published: 2015-01-01T00:00:00+00:00



Chapter Nine
Rosalind and the Doll's House
"And this," said Rosalind, "must be the dining room. How lovely!"
She'd sat down on the carpet to look more carefully at the doll's house, without giving any thought to what might become of her dress. Cecily knew that Rosalind was careless of her clothes, as her blouses were frequently marked with paint, or a streak of colour from one of her props. Once, when Cecily had stared at a pale streak of chalk on the sleeve of one of her garments, Rosalind had smiled and said: "It'll come out in the wash, Cecily…it's of no consequence at all." She'd added, "I never care how I look, only how what I'm looking at looks. That's a great many 'looks' in one sentence, is it not?" and then they'd laughed together.
"This is," she told the children, "a very fine house indeed. Did you say your papa had made it?"
Cecily nodded. "I helped him, too," she said. "I stuck the wallpaper on in most of the rooms. Papa brushed the back of the paper with paste, and I held the pieces against the walls."
"The clothes are so well-made! Who made those?"
"My Aunt Lizzie…the one we're making the portrait for. She's very clever with her needle."
Sam held out the toy soldier he was clutching to Cecily. "Can General Bones come and sleep in the doll's house?" he said.
"He can go in the guest room," said Cecily. "Put him there."
While Sam was settling his general into the empty bed in the guest room, Rosalind said, "If you'd like them, I've some scraps left of a lovely new wallpaper…my bedroom was redecorated last year. It's a pattern from Mr. William Morris's factory called Willow…"
"New paper?" Cecily was taken aback. She'd never imagined that anything in the doll's house would change, but it was true that the paper was a little shabby and coming away from the corners in some rooms. How wonderful if her doll's house could share the same paper as Rosalind's bedroom! She said, "Thank you! I'd love that."
Rosalind wanted to know the names of each and every one of the da Pontes. After Cecily had recited them, she added, "My parents went to Venice on their honeymoon, and the da Pontes were a real family they met there."
Rosalind nodded. "I don't think you ever grow out of doll's houses, do you? I love them, and this one is particularly fine. I had one myself, but it's in the attic now. Such a pity. Perhaps I'll take you up there one day…" She moved Mama da Ponte from her place at the head of the tiny table to an armchair in the drawing room and took Paolo and Maggie into the nursery where she laid them in their beds.
Sam was growing impatient. "Have you finished looking at the doll's house? I want to go in the garden now."
"Oh, Sam, why the garden? There's nothing for Rosalind to see there," Cecily said. How tiresome little brothers could be! Just as she and Rosalind were beginning to talk about personal matters.
Download


Copyright Disclaimer:
This site does not store any files on its server. We only index and link to content provided by other sites. Please contact the content providers to delete copyright contents if any and email us, we'll remove relevant links or contents immediately.