Blackmailed by the Boss: The Complete Series by Adams Laurel
Author:Adams, Laurel , Date: June 11, 2021 ,Views: 42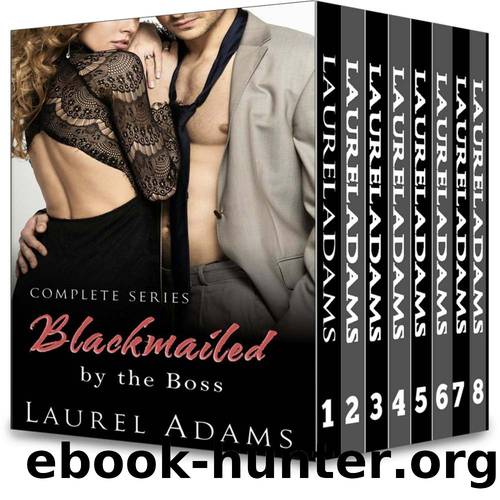 Author:Adams, Laurel
Language: eng
Format: epub
Published: 2014-12-01T16:00:00+00:00



Part Six
We want what we can't have.
That's a constant of human nature.
In business, we call it scarcity marketing. And through his oil company, my British billionaire boss is an expert on exploiting scarcity marketing. But the moment my boyfriend Ryan and I came to terms with how my boss blackmailing into having sex with him, I decided not to be exploited.
I was going to do the exploiting.
The plan was simple. Get the handsome and fabulously wealthy Basil Carlisle used to having me at his beck and call. Make him believe that I was his office slut, his personal sex toy.
Then take that toy away.
The problem with plans is that complications arise and when sex is involved, nothing is ever simple. In convincing Basil that I belonged to him, I was starting to convince myself. And all the weeks of lying, and pretending to be broken up with my boyfriend were taking their toll.
Especially since I couldn't tell anyone about it. Not even my best friend Sara, who now stood in the middle of her living room, one hand on her hip, exasperated and confused. "Let me see if I have this right. You want to use my house to meet your boyfriend in secret because…"
I swallowed, already regretting involving Sara in my plot for revenge against one of the most powerful men in the world—even indirectly. "Because we're doing something…that I can't tell you about."
Sara narrowed her eyes. "Kinky. Okay. Sure. But do I need to bleach the house when you're done?"
I laughed, grateful that she was game for this. More grateful that she'd set me up with Ryan in the first place. And most grateful of all to have a private place to reunite with the man I loved without alerting the boss who was having me watched.
Later that night, cradled in the warm embrace of Ryan's arms, I asked, "How long do we have to keep doing this?"
We'd come separately, by secret design—to avoid whatever spies Basil Carlisle had set upon me. And that added a bit of spice to our reunion, but the game was wearing me down, body and soul.
Fortunately, Ryan was strong enough for the both of us. In the bedroom, my boyfriend's dark eyes could fasten upon me with sexy dominance and bend me to his will. But never beyond the point I could handle; never when I needed to make a decision for myself. Which is one of the many reasons I loved him.
"Any time you want to stop, we stop," Ryan said, gently brushing my hair back behind my ears. "You're the one putting your ass on the line here. Literally."
I was the one fucking my boss, he meant. Working to ensnare him into a trap. And my boss deserved it. I knew he did. Basil Carlisle was a bully boy British billionaire who believed that he could take whatever he wanted without anyone else's consent. He'd tricked me into having sex with him under false pretenses the first time, used blackmail material and intimidation.
Download


Copyright Disclaimer:
This site does not store any files on its server. We only index and link to content provided by other sites. Please contact the content providers to delete copyright contents if any and email us, we'll remove relevant links or contents immediately.