Auto Biography by Earl Swift
Author:Earl Swift , Date: January 16, 2015 ,Views: 489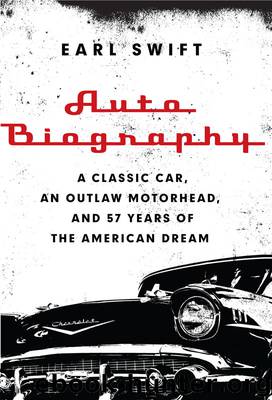 Author:Earl Swift
Language: eng
Format: epub
ISBN: 9780062282675
Publisher: HarperCollins
Published: 2014-04-17T16:00:00+00:00



SPEAKING OF RYAN: When he was eighteen, Arney bought him his own place, a town house not far from Maxwell's, where Ryan was working full-time as a cook. He stayed there for a year, then rented a house from Slick, where he threw epic all-night parties and drank a lot of beer and for a year or two lost his way.
He emerged from this wayward chapter committed to getting an education and to whipping himself into shape. He moved into a brick rambler on a curving lane in a pocket of suburban Chesapeake that, despite rampant home building and commercial development all around it, retained a little of the rural character that just a few years before had characterized the hinterlands around Norfolk and Portsmouth. The house was surrounded by fenced pasture. A gate next to his driveway opened onto a barnyard and a big wooden horse stable.
Arney owned the house, as well as another rancher down the street. Over the next couple of years he bought a third house on the lane, then a fourth—the last a roomy, two-story place that had been built by a local doctor, with four bedrooms and three and a half baths and a big, bright kitchen, and into which he moved with Krista and daughter Ashlee in 2005. He filled the stable with six full-sized horses and four miniatures. As the family rarely rode them, they amounted to large pets. "All they do is shit and eat," Arney admitted, "but they're nice to talk to, and nice to look at." He put Skinhead in one of the spare ranchers, Painter Paul in the other.
Twenty-five years had passed since Arney's flight from the orphanage, and his triumph over the circumstances of his youth was at hand. He owned a town's worth of properties and lived on a small ranch. He ran a successful restaurant and pursued his life's passion in Moyock. He had a cadre of loyal followers. On paper, he was worth millions.
Little of that was liquid, but he was achieving the American Dream. He was enjoying the Middle Class Ideal. Make that Upper Middle: In the immaculate Arney home, a baby grand piano occupied a corner of the living room. No one in the house played, but still—a baby grand. It was sculpture. It was beautiful. It was immense.
If there was a note of melancholy to his success, it was that his mother didn't live to witness its highest heights. She and Strickland had married and had a couple of kids together, and for years, Arney put them up, rent-free, in Norfolk, first in a trailer and later in a house he owned. He'd worked hard to restore his relationship with Fern, picking her up every other week to take her to the beauty parlor and to lunch. They'd become as close as they could be, given her limitations in the maternal love department, before her death in 1998.
But the rest of his kin saw. He lived in a style that folks
Download


Copyright Disclaimer:
This site does not store any files on its server. We only index and link to content provided by other sites. Please contact the content providers to delete copyright contents if any and email us, we'll remove relevant links or contents immediately.