ArtistsTouch by Kerry Adrienne
Author:Kerry Adrienne , Date: June 5, 2021 ,Views: 30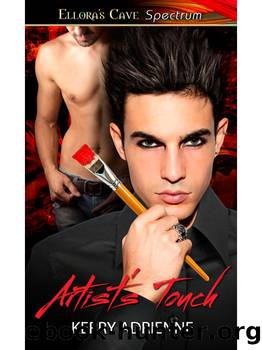 Author:Kerry Adrienne
Language: eng
Format: mobi
Publisher: Ellora's Cave Publishing, Inc.
Published: 2014-02-09T23:00:00+00:00



Kenon shifted, unsure how to respond. He didn't want to hurt Wally's feelings. He was surprised that it actually mattered to him if Wally was upset. Kenon cleared his throat. "I know you've worked hard. And you've done a brilliant job lining up people and working out the details. But the party is in good shape and anyone can handle it from this point."
"I guess," Wally said.
If he could only see the boy's face, Kenon could figure out what to say. It was already awkward enough asking Wally on a date.
A date? That was what Kenon was doing, wasn't it? He sighed.
"I want you at my side during the party, not bartending." Kenon fidgeted with his shirt. "You're a bit famous now, at least here in the guild. You did such a great job modeling, there'll be a lot of people wanting to talk to you." Including Andrei, who wouldn't get a chance to lay a finger on Wally. He'd never have invited the man to the party, if not inviting him wouldn't have appeared like a snub. A very expensive snub—one he couldn't afford. "You wouldn't be able to mingle if you were working."
"Well…I guess you're right about that," Wally said.
Why wasn't Wally more excited? He'd responded better to being asked to model naked in front of a room full of naked men. Surely going to a party on Kenon's arm wasn't worse than that.
"Don't you want to be my date?" Kenon's heart raced. What if Wally said no? That would be humiliating. Even if they were alone in the basement.
"Date?"
Kenon adored the way Wally's voice rose to a higher pitch when he was nervous. It was very endearing.
Kenon paused a moment before replying. He was back in charge. Wally wouldn't say no. "Yes, Wally, I want you to be my date."
"I'd love to." Shivers rushed through Wally's voice, making it crack. "Thank you for inviting me."
"Good. Don't forget, it's a masquerade." Kenon sensed the nervousness in Wally's voice. If he moved on him now, Wally would likely run. The dark basement would be a perfect place to have sex, though. It always had been. Lock the door and have at it. But not with Wally. He required kid gloves. Besides, Kenon had a better plan that would guarantee Wally was ready and more than willing.
"I'll get a mask. I'd already planned to for bartending anyway."
"Good," Kenon said. "Now, let's go back upstairs. Just give your party notes and information to the receptionist. He can actually work on something for once."
Wally sighed, probably with relief, and Kenon followed him out of the dark part of the basement back toward the dance floor. He'd make sure Wally was blown away at the party. If Kenon could wait that long.
Wally turned. "So what do you want me working on until the party? I mean, if I'm not planning the party, what do you need me around for? Or do you even need me?"
What indeed? Kenon grinned. "Well, I did have a little job in mind.
Download


Copyright Disclaimer:
This site does not store any files on its server. We only index and link to content provided by other sites. Please contact the content providers to delete copyright contents if any and email us, we'll remove relevant links or contents immediately.