A Horse Called Hero by Sam Angus
Author:Sam Angus [Angus, Sam] , Date: February 15, 2016 ,Views: 595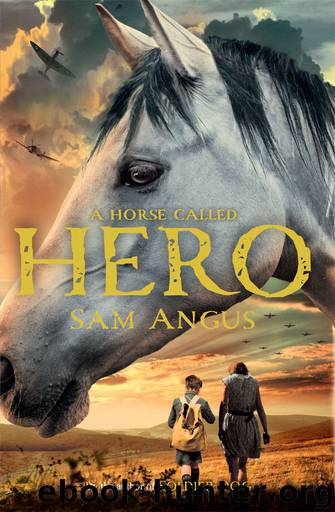 Author:Sam Angus [Angus, Sam]
Language: eng
Format: epub
ISBN: 9781447241379
Publisher: Pan Macmillan UK



Chapter Twenty-Three
After the race Pa had written to Wolfie that the fame of Hero had reached even the darkest corner of London, and that Pa sat purring like a cat in the sun with the pride of it all. Pa thought that Wolfie must have breathed with Hero, in with him and out with him, so that they were at one.
The winter that followed was cold and slow, March long and bitter. When April came it was wet and grey.
Anti-aircraft batteries, artillery ranges and search light positions were established on the open ground of the hills. The moor itself became a training ground for infantry and artillery. The noise of gunfire, shells and mortar, became, for a while, a constant background that spring. The village filled with troops, British first, then American. Rumblings filled the valley, echoing and growing as convoys of monstrous tanks crawled across the old pack bridge. The old houses, smaller than the giant tanks, seemed to tremble with fear to see such things.
'Fifteen troop trains a day,' said Father Lamb wistfully. 'Each one with a thousand troops.'
Stacks of ammunition stood outside the Village Stores. Blocks of gelignite piled up on roadsides like pats of margarine. Anti-aircraft shells, hand grenades, dynamite and mortars gathered on the roadsides. American jeeps burned and screeched down the narrow lanes. DUKW vehicles arrived, strange mongrels, armoured cars crossed with boats. GIs sauntered through the villages in soft rubber-soled shoes, hands in their pockets, chewing gum, smiling, singing, lavish with tinned peaches, 'candy' and cigarettes.
In the kitchen at Lilycombe, Wolfie looked over the Common, the brown moor beyond, a landscape as unwarlike as he could conceive. Father Lamb stood at his side, listened to the rumblings of the tanks through the open window, and said, 'Twenty thousand troops up here, they say, and half of them American.'
'Are we going to invade soon?'
'No. Not soon, not unless it stops raining.'
Wolfie sat at the table and wrote to Pa.
Dear Pa,
I am glad you will appeal soon. Hero is bored because it keeps raining and the ground is too wet to ride.
The Americans are here. They put antlers on their jeeps. They give us toffee apples and oranges. They chew gum.
Love, Wolfie
PS The end of the war is going to start from here. Eisenhower is in the pub again today. His train has a cinema in it. There is lots of gelignite. There are tanks in the playing field at school. Father Lamb says the Americans feed their horses candyfloss and run their tanks on Coca Cola. He says they are waiting for it to stop raining. I think something is going to happen soon.
Download


Copyright Disclaimer:
This site does not store any files on its server. We only index and link to content provided by other sites. Please contact the content providers to delete copyright contents if any and email us, we'll remove relevant links or contents immediately.