A Distant Mirror by Barbara Tuchman
Author:Barbara Tuchman , Date: October 28, 2018 ,Views: 889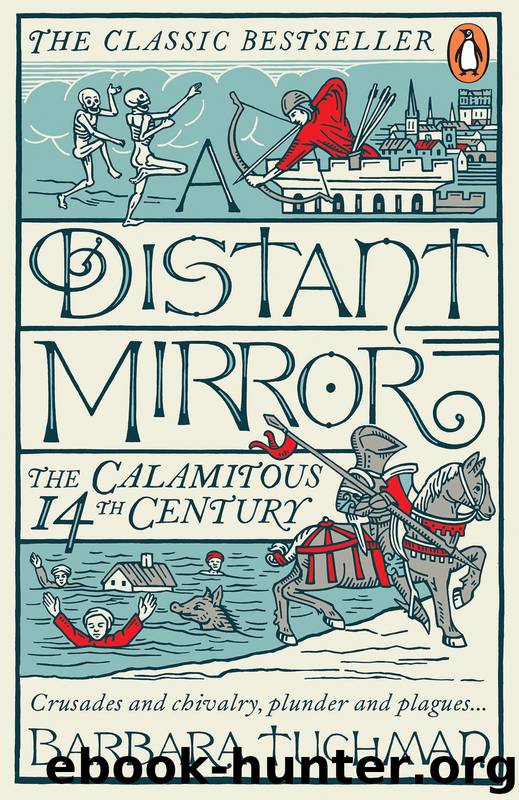 Author:Barbara Tuchman
Language: eng
Format: epub
ISBN: 9780241972984
Publisher: Penguin Books Ltd
Published: 2017-08-04T16:00:00+00:00



Part Two
* * *
Chapter 17
Coucy's Rise
Now "wholly French" once more, Coucy served as the King's right arm through the closing efforts of the reign. Though only 41, Charles V felt time pressing. In February 1378 his Queen, Jeanne de Bourbon, who was the same age as he, died of childbed fever after the birth of a daughter, Catherine. Three weeks later, the last to survive of her previous five daughters died, leaving of her eight children only two sons and the newborn to outlive her. The King "sorrowed long and marvelously" from his wife's death "and so did many other good people, for the Queen and he loved each other as much as loyal married people can." A month later came the death—precipitating the schism—of Pope Gregory XI, with whom Charles had been closely associated, followed in November by the death of his uncle the Emperor and shortly afterward by the passing of his longtime ally King Enrique of Castile. In all these losses Charles cannot but have felt the advancing shadow of his own limited time, and with it an urgency to leave his kingdom whole and at peace before he too departed.
To that end he must close the three portals of danger represented by the persistent betrayals of Charles of Navarre, by the alliance of the Duke of Brittany with England, and by the continuing war with England itself. Coucy's strategic territory, his military and diplomatic talents, and that evident dependability which Gregory XI had found notable made him a fulcrum of the King's effort. His first task was to conduct a campaign to eliminate Charles of Navarre from Normandy once and for all.
On learning that Navarre had again secretly negotiated to re-open Normandy to the English, Charles V swore to drive his faithless vassal out of every town and castle he held there. Legality was at hand in the person of Navarre's two sons, in whose name the Navarrese fiefs in Normandy could be taken over. Since their mother, the King's sister, was dead, Charles V could claim their guardianship by an argument that would admit of no dispute: they were both in his custody at the court of France at the time. Why their father allowed this to happen is unclear, unless he intended it as some devious camouflage of his dealings with England.
Legal evidence of Navarre's treason was provided when his chamberlain, Jacques de Rue, arrived in Paris with letters for the two sons. Under interrogation, De Rue testified freely—without torture, as the King took care to have stated in the authorized chronicle—that Charles of Navarre planned to poison the King of France right after Easter through a steward of the royal bakery. Taking advantage of the ensuing disarray and succession of a minor, he would then open hostilities by seizing French strongholds along the Seine while the English landed in Normandy.
This story was easily believable of a prince who had already attempted the life of his other brother-in-law, the Count of Foix, in a melodrama infused with all the lurid glitter of the 14th century.
Download


Copyright Disclaimer:
This site does not store any files on its server. We only index and link to content provided by other sites. Please contact the content providers to delete copyright contents if any and email us, we'll remove relevant links or contents immediately.