42 Rules for Building a High-Velocity Inside Sales Team by Lori L. Harmon
Author:Lori L. Harmon , Date: March 17, 2020 ,Views: 174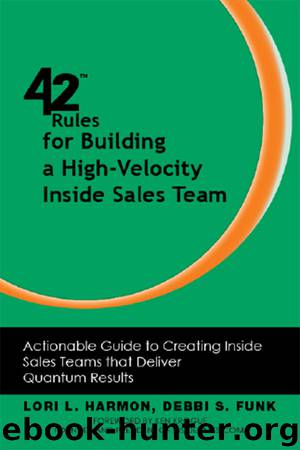 Author:Lori L. Harmon
Language: eng
Format: epub
Publisher: Happy About



Rule 21
Motivate with Contests
The key to creating a contest is to make sure the goal is achievable by all team members.
One of the best ways to drive performance (while boosting morale) is through contests. Contests bring out the competitive nature of your inside sales team. The contests don't have to be complicated nor cost a lot of money. In fact, paid time off (full or half day) can be a great motivator for hard workers.
The key to creating a contest is to make sure the goal is achievable by all team members. If the competition is not motivating, it can fall fat. Contests can take place for short periods of time, maybe a two-hour call blitz, or they can occur over an extended period of time, a month or even a quarter to promote a new product or process. It is advised to carefully choose a timeframe for your contest that is sustainable as inside sales reps could start to burn out performing at high levels.
When considering contests, individual competition generally comes to mind. Some examples of individual contests are:
A random, daily cash giveaway. Select a metric, such as three new leads for the day. The prize for the first rep to get to that goal is $50 cash.
The sales person that has the most month-to-month sales increase gets a paid Friday off.
Have a raffle with a grand prize, such as a sizable gift card. If you are trying to acquire new customers, give a raffle ticket to the rep when they close an opportunity. The more new customers, the better their chance of winning.
Call blitz. Walk around your sales floor and hand out lottery tickets as you hear reps engaging in valuable sales conversations.
Download


Copyright Disclaimer:
This site does not store any files on its server. We only index and link to content provided by other sites. Please contact the content providers to delete copyright contents if any and email us, we'll remove relevant links or contents immediately.