0961317744 1 by Unknown
Author:Unknown , Date: August 14, 2019 ,Views: 303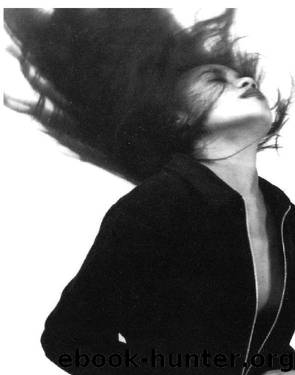 Author:Unknown
Language: eng
Format: epub, mobi
Published: 0101-01-01T00:00:00+00:00



anyone. i could be someone in a romance novel. while that's
an acting experience it's not necessarily fun. i've had a lot
of fantasies, but that's the value of a fantasy. You don't go
turning every fantasy into reality.
Then how do you select? Like you thought it would be fun
to have sex with women and at a certain point you only
thought about it and then you did it in reality. So then
how do you decide what fantasies to act out and which
ones to keep as fantasies?
a lot of my current decisions came from experiences that at
the moment you say to yourself, "i could have done without
that." But then again you learn a lot about where you're at in
your life. i had some sexual experiences that i knew had gone
too far, that wasn't what i wanted. i learned. and i'm fine
without it. i wish i knew a really efficient way to answer your
question. i can best draw the lines by experiencing and going
too far and coming back.
How am I going to go into the whole realm of my fantasy
life and my girl friend's fantasy life and have it be open
and OK?
Peter and i decided together, we can scope together and talk
together and fantasize together and there's no limit on that
at all. But in terms of actual reality the line is also drawn for
him in that is this guy is worthy or if this woman is worthy.
it is easier for him to deal with me sleeping with a woman.
he knows that and he isn't exactly proud of it. there is also a
safety reason for it too.
So he would rather that you sleep with another woman
than another man?
he is more comfortable. he's a guy, what can i say? it's the
rage of the flesh kind of thing. if it's a guy, he knows guys
better than he knows women. and he knows what a lot of
guys are thinking and fantasizing about and thinking that's
what's going to happen. it's never a trust problem with me,
its a trust problem with that guy and whether he is worthy
and whether he is sneaky and whether he is going to be up
front with Peter about what he wants to do with me and
blah, blah, blah. if the guy can be up front and if he is a
decent respectful kind of guy with some sort of appeal,
character wise then there's not a problem. then it's really
up to me and what i want. there isn't a whole lot that Peter
can't give me. But it's fun to play. there is that playfulness
and that's fun. •
P a g e 5 7 • S e X P e c tat i o n S • h t t P : / / h o w t o S u c c e e d w i t h w o m e n . c o m / S e X P e c tat i o n S
name: Alice
age: 53
occuPation: Medical professional
ReLationShiP StatuS: Living with a 36 year old boyfriend
How many submissive men have you had over
Download


Copyright Disclaimer:
This site does not store any files on its server. We only index and link to content provided by other sites. Please contact the content providers to delete copyright contents if any and email us, we'll remove relevant links or contents immediately.