Unleashed by Laurien Berenson
Author:Laurien Berenson , Date: June 11, 2021 ,Views: 30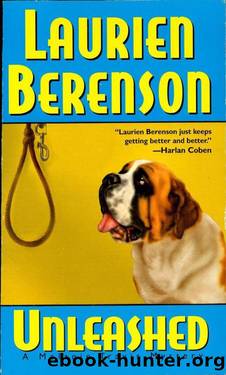 Author:Laurien Berenson
Language: eng
Format: mobi
Tags: Fiction, Women Sleuths, Mystery & Detective
ISBN: 9781602856592
Publisher: Kensington
Published: 2001-07-01T23:00:00+00:00



Seventeen
As I got Davey ready for camp the next morning, it occurred to me that Aunt Peg hadn't followed through on her promise to solve the problem of Davey and the lunchtime bully. I offered to write a note for him to give to the counselors—an idea my son firmly rejected in the belief that it would make him look like a wuss. Speaking as a mother, I wasn't sure that was an all-bad thing.
But when Davey rolled his eyes and assured me that a girl would never understand, I capitulated; instead packing a spare sandwich and extra cookies in his bag, in the hope that he could use the additional food to negotiate a truce.
As soon as he was gone, I took Faith's temperature, adding the morning's normal reading to the chart Peg and I had begun the night before. Earlier, Faith had begun to exhibit the first signs of nesting. I heard her burrowing beneath the dining-room table and trying to slip into the narrow space behind the couch. Her nails scraped as she dug furiously into the carpet, attempting to ready a spot for her puppies' arrival.
She'd been introduced to the sumptuous accommodations Aunt Peg and I had prepared in my bedroom, but so far her only response had been to sniff the box disdainfully and walk away. In her own doggy way, she was rolling her eyes just as my son had. A human, she seemed to be saying, just wouldn't understand.
I spent the next hour browsing through the inaugural issue of Woof!. Aunt Peg had been right about Sheila's story on Kenny Boyle. There was scant mention of the fact that he and his client had resolved their differences, and the facts were presented as sensationally as possible. Not only would the tone of the article keep future clients from seeking him out, I could see how some of the ones he had might be tempted to jump ship.
Several photographs accompanied the article. One, of course, was of the top winning Doberman. Kenny was a tall man, built along the same elegant lines as the dog he was handling. In the picture, taken to celebrate a group win at the prestigious Tuxedo Park show, they seemed to complement each other well.
The second photo was considerably less flattering. It was a candid, snapped under the handlers' tent. Kenny was leaning over a grooming table, talking to someone. Judging by the sneer on his face, he wasn't very happy. The tone of the photograph matched the article it accompanied, and when I checked for the credit, I wasn't surprised to find Marlon Dickie's name.
I got up, walked over to the phone on the counter, and dialed the magazine's office. When Carrie answered, I identified myself and reminded her that we'd spoken the day before. Even so, it seemed to take her a minute to place me.
"Oh yeah," she said finally. "You're the lady that ticked off Aubrey."
I was? Interesting.
"What was she mad about?" I asked.
"Like I would know.
Download


Copyright Disclaimer:
This site does not store any files on its server. We only index and link to content provided by other sites. Please contact the content providers to delete copyright contents if any and email us, we'll remove relevant links or contents immediately.