Three Small Bones: A totally unputdownable mystery and suspense novel (Detective Katie Scott Book 8) by Jennifer Chase
Author:Jennifer Chase [Chase, Jennifer] , Date: September 17, 2022 ,Views: 80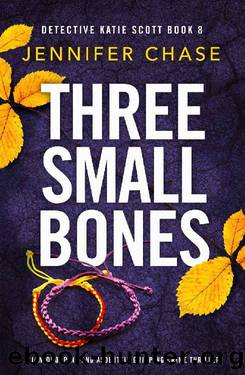 Author:Jennifer Chase [Chase, Jennifer]
Language: eng
Format: epub
ISBN: 9781803145938
Publisher: Bookouture
Published: 2022-09-15T16:00:00+00:00



TWENTY-EIGHT
Saturday 1415 hours
Katie had buried herself for the past hour in paperwork, reading through everything she could and extracting anything that would be pertinent to their investigation. She knew that Detective Hamilton was overburdened with the homicides of Travis Stone and Jimmy Turner, but Katie had to keep her concentration and efforts on their cold cases of the Cross family and Sara Simms.
McGaven had been on the phone trying to get hold of anyone in Sara Simms's family.
Katie organized several piles of rental applicants—categorizing them for further background checks to see if any of them had any connection to anyone they had spoken with so far. She then went through the file that Travis Stone had given them at their first meeting, cross-referencing them with the Crosses' rental paperwork.
"Wow," she said under her breath.
"What? You have something?"
"Not yet. Mr. Stone certainly kept impeccable paperwork. I've never seen anything quite like this."
"Did you not see that guy?"
Katie turned to her partner. "What do you mean?"
"C'mon, Katie, that guy spent more time in front of the mirror than he did working. That tells you quite a bit. If his notes were that detailed it meant he didn't have a life."
"Funny. He made some interesting memo notes." Pulling one of the rental application forms, she said, "Listen to this, and I quote: 'Mr. H. doesn't have the skills to keep his current job. Doubt he will be able to pay rent after six months'."
"Harsh. Did he have a crystal ball to see the future?"
"But don't you see? He went the extra mile on everyone. It's like he profiled every applicant. He was careful, methodical, and a bit unnerving."
"Now that sounds like a serial killer."
"He was a serial something, that's for sure."
"What made the Cross family the winner?"
"I don't know. His notes were just initials. BGC."
"BGC? Maybe background check?"
"Could be. I think he had his own way of taking notes—like shorthand. We probably won't know for sure because he had his own way of coding and interpreting things." Katie kept reading. "It seems that Stone spoke to both bosses—Stan Bates and Tiffany."
"Seems reasonable."
"Do you think he might've known either one of them?" she said.
"It's possible. But they didn't say anything except that Stone was harassing the Crosses. You still don't think that Stone killed the family, do you?"
"No. But he's connected somehow, part of the picture, not just the fact that he owned the house and paid to have it burned down." She flipped through her notes. "Remind me when Stewart Fitzgerald was arrested? Can you see if he's in the system?"
McGaven typed in the parameters into the police database: Fitzgerald, Stewart, moniker, Flash. He waited. "Got a hit. Yep, he's been taken into custody for arson and looks like he sees a judge next week for his bail hearing."
"How long has he been there?"
"Since… yesterday, like Hamilton said."
"Hmm," she said. She leaned back and stared at the investigation board, which was now mostly empty since most items had been transferred to the forensic room.
Download


Copyright Disclaimer:
This site does not store any files on its server. We only index and link to content provided by other sites. Please contact the content providers to delete copyright contents if any and email us, we'll remove relevant links or contents immediately.