The Story Factor: Inspiration, Influence, and Persuasion through the Art of Storytelling by Annette Simmons
Author:Annette Simmons [Simmons, Annette] , Date: December 2, 2017 ,Views: 1587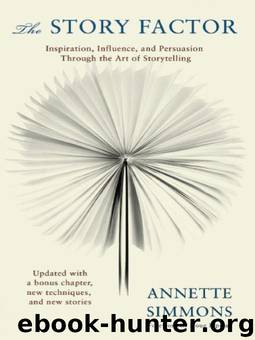 Author:Annette Simmons [Simmons, Annette]
Language: eng
Format: mobi
ISBN: 9780786736560
Publisher: Basic Books
Published: 2009-03-16T14:00:00+00:00



The Story of Resistance
Let's go back to our city committee for downtown development. True acceptance of any plan would include more people than were in the room. Our executive director's influence strategy to get a fast decision did not allow committee members to test out the new story, chew on it for a while, bounce it off their constituents, and make the new story their story. Her sound bite theory of influence caused her to neglect this step. As it turned out, members of her committee got a surprise when they went back to their communities with news of an agreement. Both "sides" were threatened with old stories of mistrust (epics with much deeper roots) that emotionally eclipsed their fledgling support for the new story of trust and compromise. The cozy compromise crafted in the committee room looked like a sell-out when presented as a fait accompli to their constituents.
Feeling uninvolved, each group saddled their representatives with the sell-out labels of "Uncle Tom" or "bleedingheart liberal." These labels eclipsed the committee's new story of collaboration and caused most of the committee members to abandon their agreements rather than be labeled as sell-outs. The new story wasn't emotionally strong enough to compete with the old epic stories of injustice. Any new idea you seek to promote must inevitably compete with old stories like these. We call this resistance, but resistance is not some irrational black box force of human nature. Resistance always has a story. Understanding the unique story of resistance to your new idea enables you to successfully negotiate a new story that is more attractive than the old one. Predicting it is even better. If you know ahead of time what the story of resistance might be, you can apply your attention to changing this story sooner rather than later.
A strategy of successful influence requires that you understand the stories that compete with your new ideas. Once you know the stories you can adapt your story or first listen to these stories and apply the transforming salve of human attention. Just as the emotional feelings of people "in the room" can be influenced with human attention, the emotional feelings of those outside will be influenced by human attention. Our committee could have delayed a final decision until the stories of racial tensions were told publicly enough for healing to take place. They might have spent more time codeveloping a story that all committee members could continue to embrace and tell even after listening to the stories of their worried constituents. Or they might have worked on changing people's stories from "day one."
Download


Copyright Disclaimer:
This site does not store any files on its server. We only index and link to content provided by other sites. Please contact the content providers to delete copyright contents if any and email us, we'll remove relevant links or contents immediately.