The Sentient Machine by Amir Husain
Author:Amir Husain , Date: November 26, 2017 ,Views: 1742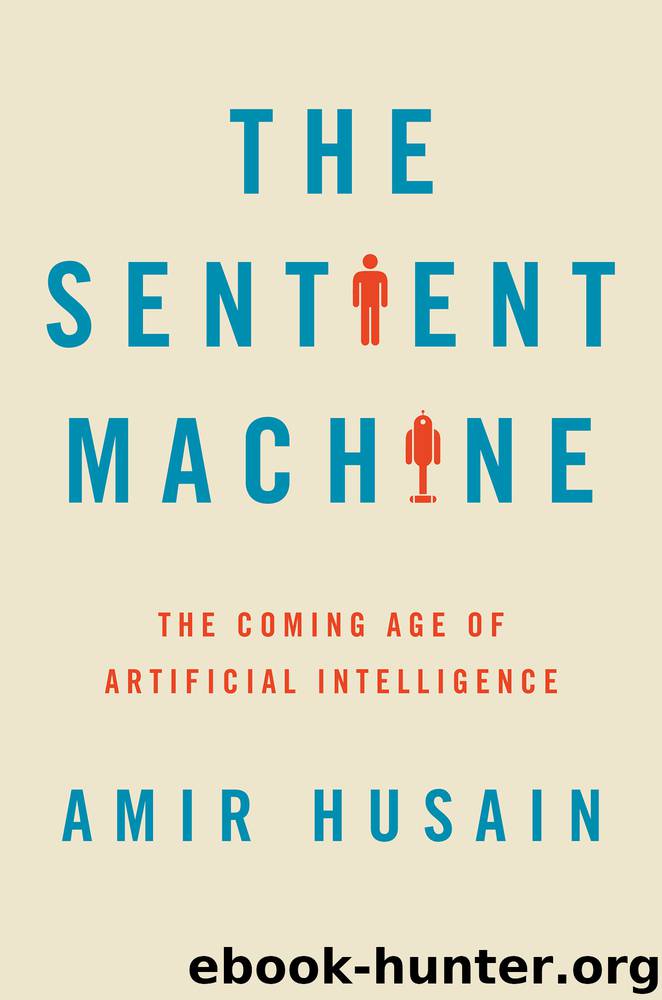 Author:Amir Husain
Language: eng
Format: epub, mobi
Publisher: Scribner



AI AND BLOCKCHAIN: THE MATHEMATICS OF TRUST
Just as AI is disrupting the entire hedge fund industry, it is also transforming our cultural conception of the "financial institution." Throughout history, financial institutions such as banks, indexes, and clearinghouses have been providers of trust and low-friction transactions. Ever since we entered the colonial era of empires, joint-stock companies, conglomerates, and global finance, these institutions have served as a trustworthy intermediary between you and me: I owe you money so I give you a bank draft that feels as good as cash. In reality, the draft is nothing like cash, but in our collective imaginations, the story instills confidence. We trust in the ability of the financial institution to pay the money. The more we reduce friction—bank drafts are decidedly easier to carry around than shells, a herd of oxen, or crates of tea—the more we can trade. And the more we trade, the more our belief in this narrative is affirmed. When we make an exchange of goods, you don't really "trust" me—a complete stranger living halfway around the world—you "trust" in the bank. The conceit of the "bank" makes manifest our faith in cooperation en masse.
Until very recently, "bank" meant an actual building. We might even call it a "branch." This was a physical place where we did our "banking." Inside, we often brought our checks to a human teller and passed them over to be processed, placed in a clearinghouse, and then, days later, transformed into numbers on our balance ledgers. Many of us still remember the bankbooks they used to pass out to new customers. They came wrapped tight in a plastic sleeve, each transaction recorded under the watchful eye of a teller. Bank branches, for many of us, still conjure up images of stately wooden desks, leather couches, and pens attached with long strings of metal beads.
All of that, today, is quickly becoming obsolete. Even the idea of the financial institutions—the story we all agree on—is up for debate. This is due, in part, to an innovation created by a mysterious cryptographer who goes by the name of Satoshi Nakamoto.
• • •
In 2014, Newsweek reporter Leah McGrath Goodman showed up on the doorstep of Japanese-born engineer Dorian Nakamoto and "outed" him as the elusive creator of Bitcoin, the digital peer-to-peer currency designed in 2008. The article immediately created a buzz despite Nakamoto's vehement denials of any involvement in the cryptographic endeavor. Although Newsweek stood by Goodman's claims, more and more sources close to the Bitcoin project started to doubt that Dorian Nakamoto was the originator. Who is the real founder of Bitcoin? As of this writing, we still don't know, although a new goose chase is on with Australian cryptographer and businessman Craig Steven Wright. He seems to have the technical knowledge required for the development of Bitcoin, but does he have the singularity of mind, the "genius," to create a code that cryptographers around the world deem downright brilliant? It is, so far, an impenetrable mystery worthy of the man—or woman—who has likely changed our entire understanding of cooperation and risk.
Download


Copyright Disclaimer:
This site does not store any files on its server. We only index and link to content provided by other sites. Please contact the content providers to delete copyright contents if any and email us, we'll remove relevant links or contents immediately.