The Meaning Of It All by Richard P. Feynman
Author:Richard P. Feynman [Feynman, Richard P.] , Date: August 26, 2017 ,Views: 1033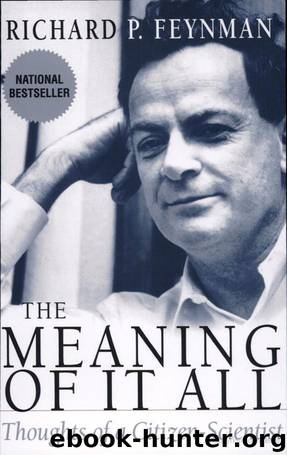 Author:Richard P. Feynman [Feynman, Richard P.]
Language: eng
Format: epub
Publisher: Unknown publisher
Published: 2011-02-12T08:00:00+00:00



You have, we suppose, two theories about the way something is going to happen, which I will call "Theory A" and "Theory B." Now it gets complicated. Theory A and Theory B. Before you make any observations, for some reason or other, that is, your past experiences and other observations and intuition and so on, suppose that you are very much more certain of Theory A than of Theory B—much more sure. But suppose that the thing that you are going to observe is a test. According to Theory A, nothing should happen. According to Theory B, it should turn blue. Well, you make the observation, and it turns sort of a greenish. Then you look at Theory A, and you say, "It's very unlikely," and you turn to Theory B, and you say, "Well, it should have turned sort of blue, but it wasn't impossible that it should turn sort of greenish color." So the result of this observation, then, is that Theory A is getting weaker, and Theory B is getting stronger. And if you continue to make more tests, then the odds on Theory B increase. Incidentally, it is not right to simply repeat the same test over and over and over and over, no matter how many times you look and it still looks greenish, you haven't made up your mind yet. But if you find a whole lot of other things that distinguish Theory A from Theory B that are different, then by accumulating a large number of these, the odds on Theory B increase.
Example. I'm in Las Vegas, suppose. And I meet a mind reader, or, let's say, a man who claims not to be a mind reader, but more technically speaking to have the ability of telekinesis, which means that he can influence the way things behave by pure thought. This fellow comes to me, and he says, "I will demonstrate this to you. We will stand at the roulette wheel and I will tell you ahead of time whether it is going to be black or red on every shot."
I believe, say, before I begin, it doesn't make any difference what number you choose for this. I happen to be prejudiced against mind readers from experience in nature, in physics. I don't see, if I believe that man is made out of atoms and if I know all of the—most of theways atoms interact with each other, any direct way in which the machinations in the mind can affect the ball. So from other experience and general knowledge, I have a strong prejudice against mind readers. Million to one.
Download


Copyright Disclaimer:
This site does not store any files on its server. We only index and link to content provided by other sites. Please contact the content providers to delete copyright contents if any and email us, we'll remove relevant links or contents immediately.