The Finisher by Peter Lovesey
Author:Peter Lovesey , Date: August 7, 2020 ,Views: 457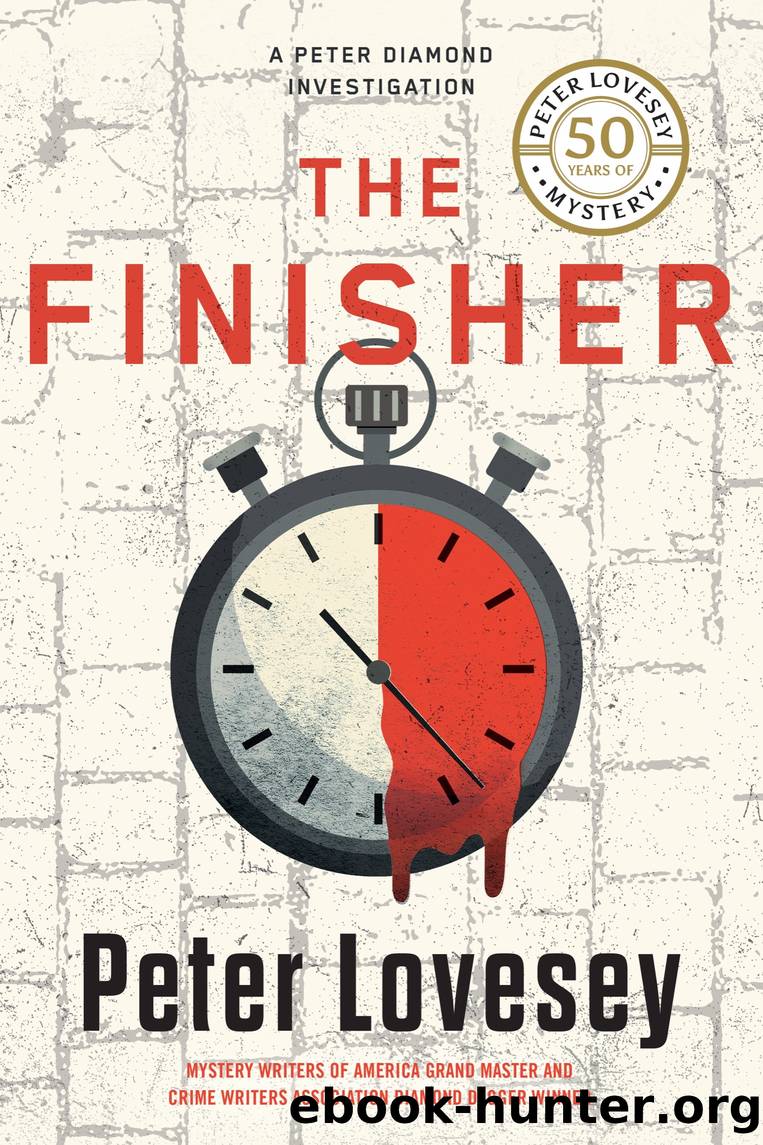 Author:Peter Lovesey
Language: eng
Format: epub, mobi
Tags: Fiction
Publisher: Soho Press
Published: 2020-04-13T17:08:56+00:00



20
"So how did you get out of the mine?" Paloma asked.
"Quarry," he said.
He was in bed in a side ward of the trauma and orthopaedic unit at the Royal United Hospital and somewhat sedated, but not enough to let mistaken terms get by. His right foot was cocooned by a metal blanket support that made a large hump in the bedding.
"Have it your way," Paloma said. "Ingeborg called it a stone mine when she phoned me."
"She doesn't live on Combe Down."
"Stop being so grouchy and tell me what happened."
"Grouchy I am not. The last person who called me that got kicked off my team."
"You won't be kicking anybody in your present state."
He managed a grin. "What did you ask me?"
"How you got out."
"The lad who was with me. I don't know how he coped. We had no chance of getting help from above ground. Phones wouldn't work. We had to get back to where we started. Young Stanley dragged me most of the way. I used my good foot and my hands as much I could, but it was basically down to him that I got back to the shaft where we started. I'm no lightweight, as you know."
"Then—when you reached the shaft—you still had to get to the surface."
"Right. There was no way I could get up a rope ladder. Stanley knew what to do. He went to the top and used his phone to call 999. Don't ever let me complain about modern youth. That kid is a hero, a bloody hero."
"Have you paid him yet?"
"Jesus—I haven't." He clapped a hand to his head and raised a flurry of limestone dust.
"How much is he owed?" Paloma asked when she'd wiped the worst of it off his forehead.
"Twenty. Make it fifty. Would you tell Keith Halliwell? He'll make sure it's done."
"How did they get you out?"
"The air ambulance came. It was after dark and the entrance to the shaft was in the middle of a wood, so they landed the helicopter in the nearest field. I don't know how they knew where to come."
"Stanley, I expect."
"It would be, yes. You wouldn't know it, talking to him, but he's a bright lad. He will have used GPS to tell them where to come."
"Good thing you weren't on your own. You'd never have known what to do. So they lifted you?"
"Bosun's chair. Two paramedics brought it down the shaft. They gave me a painkiller, made me as comfortable as they could and hoisted me up like Patch the dog."
Paloma frowned. "Did you say a dog was down there or are you feeling woozy?"
"Another time, another story."
"And what's the prognosis?"
"Several broken bones. Do you know how many bones there are in a human foot?"
"Tell me then."
"I was told, but I can't remember. They had to cut the boot off to get at the foot, it was so swollen."
"I expect the boot was some protection."
"That's for sure. The foot would have been mincemeat without it. They X-rayed me, of course, and I'm going for surgery later.
Download


Copyright Disclaimer:
This site does not store any files on its server. We only index and link to content provided by other sites. Please contact the content providers to delete copyright contents if any and email us, we'll remove relevant links or contents immediately.