The Camp & Cabin Cookbook by Laura Bashar
Author:Laura Bashar , Date: June 21, 2018 ,Views: 972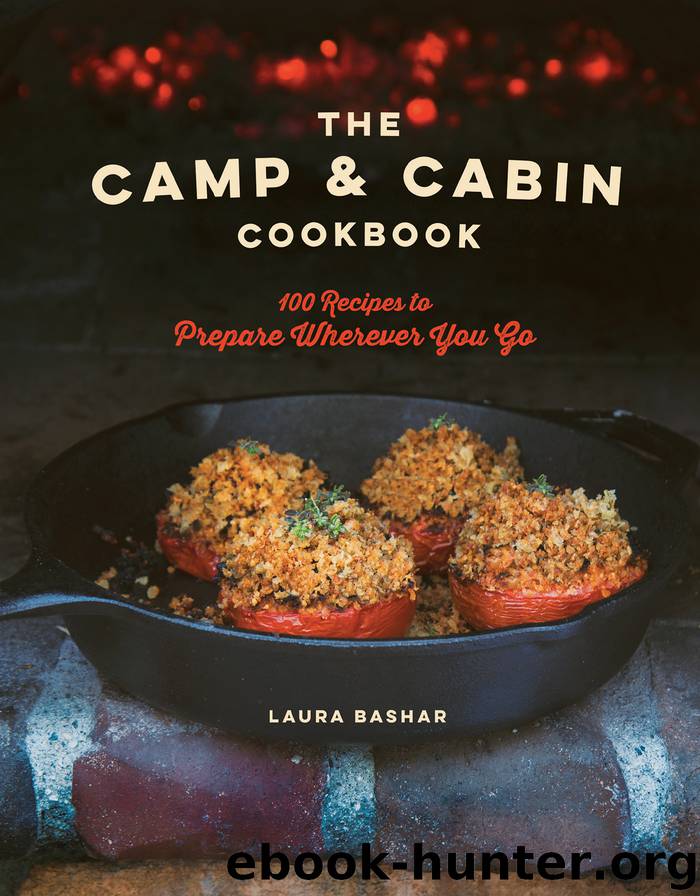 Author:Laura Bashar
Language: eng
Format: epub
Publisher: Countryman Press
Published: 2018-06-21T04:00:00+00:00



Campfire Ramen
When you have a family of five and every one of them has strong opinions of his or her likes and dislikes, it can be a challenge to find something that all five will want to eat. Ramen is one of those peace-affirming meals that brings my crew together. But no two ramen bowls in our family are alike. The beauty of ramen is that everyone can mix in their favorite vegetables and make the dish their own. How I envision this meal is as a giant pot of broth and noodles, and a rainbow of vegetable choices for everyone to select from. The hot broth will soften the vegetables; just be sure to cut them thin. If you must have meat, offer thinly sliced steak. The hot soup will cook the meat, so you don't have to do it separately.
Dutch Oven Prep Time: 20 minutes Cook Time: 45 minutes Serves 4
soup
2 teaspoons extra virgin olive oil
¼ teaspoon sesame oil
¼ cup grated onions
2 garlic cloves, crushed
1 tablespoon grated ginger
1 stalk lemongrass, trimmed, outer layers discarded, halved lengthwise, and smashed with the side of a chef's knife
8 cups vegetable broth
4 teaspoons miso
2 tablespoons soy sauce
1 tablespoon crushed dried seaweed, unseasoned
8 slices dried shiitake mushrooms
16 ounces dry ramen noodles
toppings
Shredded carrots
Shredded cabbage
Bean sprouts
Baby bok choy
Thin slices of rib eye steak
Thin slices of mushrooms
Download


Copyright Disclaimer:
This site does not store any files on its server. We only index and link to content provided by other sites. Please contact the content providers to delete copyright contents if any and email us, we'll remove relevant links or contents immediately.