The 15-Minute Psychologist by Anne Rooney
Author:Anne Rooney , Date: March 19, 2023 ,Views: 58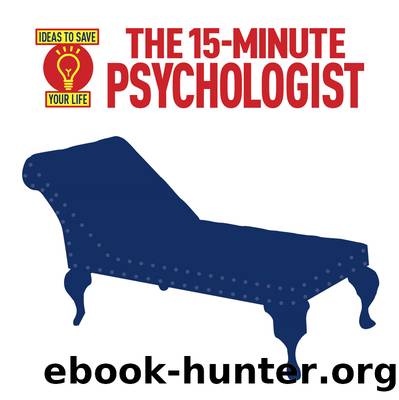 Author:Anne Rooney
Language: eng
Format: epub
Publisher: Arcturus Digital



Who will help?
While intervening in a murder would probably be dangerous, getting help for someone having an epileptic fit would seem an obvious and humane thing to do. Yet, surprisingly, few people actually do go to their aid.
In 1968, prompted by the Genovese case, John Darley and Bibb Latané set up an experiment at Columbia University to discover whether people would help a stranger in distress. They actually asked for volunteers to take part in a psychological study about personal problems. As usual with psychology experiments, that story was just a cover. Because the issues discussed were private, all the discussion was to take place over intercom systems. It was important that the participants couldn't see each other. There were one, four or no other participants in each study.
Partway through a discussion, one participant (really a confederate of the researchers) would fake a seizure. They stuttered, asked for help, said they were ill, became increasingly distressed and said they felt they would die. Other participants could hear this – and each other – over the intercom. They had been told at the start that it was important that all participants remained anonymous – rushing to someone's aid would compromise that anonymity.
"I-er-um-I think I-I need-er-if-if could-er-er-somebody er-er-er-er-er-er-er give me a little-er-give me a little help here because-er-I-er-I'm-er-erh-h-having a-a-a real problem-er-right now and I-er-if somebody could help me out it would-it would-er-er s-s-sure be-sure be good . . . because-there-er-er-a cause I-er-I-uh-I've got a-a one of the-er-sei er-er-things coming on and-and-and I could really-er-use some help so if somebody would-er-give me a little h-help-uh-er-er-er-er-er c-could somebody-er-er-help-er-uh-uh-uh (choking sounds). . . . I'm gonna die-er-er-I'm . . . gonna die-er-help-er-er-seizure-er-[chokes, then quiet]."
Seizure script, Darley and Latané, 1968
Download


Copyright Disclaimer:
This site does not store any files on its server. We only index and link to content provided by other sites. Please contact the content providers to delete copyright contents if any and email us, we'll remove relevant links or contents immediately.