Shadows in the Sun by Gayathri Ramprasad
Author:Gayathri Ramprasad , Date: February 27, 2019 ,Views: 330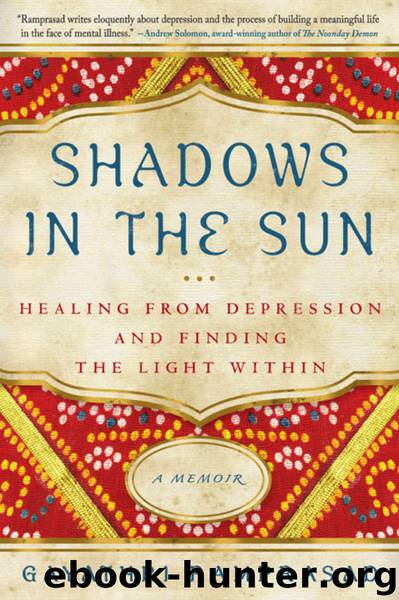 Author:Gayathri Ramprasad
Language: eng
Format: epub
Published: 2018-10-03T00:00:00+00:00



PART 4
Descent into Darkness
CHAPTER 9
Breakdown
IT IS THREE O'CLOCK IN THE MORNING, August 1987, in Chennai, India. Roshini and I inch forward through the immigration line along with hundreds of fellow passengers on board Singapore Airlines. It is unbearably muggy, even at this early hour. The air is stagnant with the smell of sweat and coffee. Most of us feel as crumpled as our clothes. The ceiling fans aren't working. A power shortage has forced the government to ration electricity and enforce mandatory power cuts throughout the day.
Roshini starts fussing and wants to be nursed. I drape her blanket over my shoulder and nestle her to my bosom, tossing modesty to the winds. People stare in discomfort. I don't give a darn. I am too tired to care.
"Next!" The immigration officer, a middle-aged man dressed in starched whites, summons me with the flick of his finger.
"Reason for your visit, madam?" he asks, flipping through my passport with one hand and twirling his handlebar moustache with the other.
"I am coming home to visit my family in Bangalore," I answer, cradling Roshini in one arm and balancing the diaper bag and stroller in the other.
"How long are you staying?" he inquires, "Did you bring any gold or electronics?"
"I'll be in India for four months. And, no, I am not bringing any gold or electronics," I reply.
The officer stamps my passport and slides it toward me. Relieved to have been spared any harassing questions, I hurry through the customs check and security gates.
"Welcome home, Princess," Appa says, grabbing Roshini and me in a hug. I sink into his arms, hoping I don't black out. The thirty-six-hour journey had been a test of endurance. Roshini hadn't slept a wink and neither had I. She had insisted on sitting on my lap throughout the flight and even accompanied me to the bathroom. My throat was parched from singing "Mary Had a Little Lamb" a million times.
"Welcome home, Gayu," Amma hugs me. "Hi, Roshini Rani!" she says stretching her arms out. To my surprise, Roshini glides into my mother's arms and stares at her, smiling.
"I am amazed she is letting you hold her, Amma," I say. "She hardly lets anyone except me and her dad hold her."
"Hi, Roshini, darling!" says Appa, tickling her toes. Roshini crinkles her nose and frowns.
"Not fair," Appa smiles. "You girls always gang up on me."
Except for the strands of gray hair and a few wrinkles of time etched around their eyes and forehead, my parents look much like they did when I had bid them good-bye three years ago.
Skinny porters clad in white dhotis mill through the crowds, grabbing people's luggage even before they are asked to help. Careful to keep the porters at bay, Appa ushers us into a taxi and directs the driver to my aunt's house. Appa slides into the front seat next to the driver. I sink into the back seat, and rest my head on Amma's shoulder. Roshini sits in Amma's lap playing with her bangles.
"I have
Download


Copyright Disclaimer:
This site does not store any files on its server. We only index and link to content provided by other sites. Please contact the content providers to delete copyright contents if any and email us, we'll remove relevant links or contents immediately.