Shadow of the Fae: A Fated Mates Fae Romance (Shadow Court Book 1) by KJ Baker
Author:KJ Baker [Baker, KJ] , Date: January 14, 2021 ,Views: 12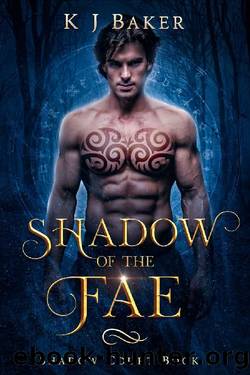 Author:KJ Baker [Baker, KJ]
Language: eng
Format: epub
Publisher: K J Baker
Published: 2020-12-31T16:00:00+00:00



Chapter 9
RAVEN
I knew the question was coming. I'd known it since the moment Shezl had spoken my true name back at the museum, but it still hit me like a punch to the stomach. Asha watched me with a mixture of hurt and anger in her beautiful eyes. She was withdrawing from me. I could see her pulling back, forming a shell around herself.
I couldn't blame her. She had every right to feel hurt and angry. After all, I'd lied to her from the start.
Yet what choice did I have? I had never intended to drag her into my mess of a life. Fates help me, I never intended to feel this way about her—
I ran a hand through my hair. Sucked in a deep breath. Met her gaze.
"All right. You want the truth? My name is Arion Storm, Lord of the Ravenhold, king of the Shadow Court of the Seelie Fae."
She stared at me, her mouth dropping open. "King Arion?" she whispered, shaking her head as if to deny my words. "But you said you were called Raven."
"I am. I am a soldier as well as a ruler. Raven is my combat name when I'm in the field."
She said nothing, processing my words. Emotions flashed through her eyes in quick succession: disbelief, fear, hurt.
"You're a king?" she breathed at last. "As in a ruler? Leader? With palaces and courtiers and carriages and all that?"
I nodded reluctantly. "Yes. All of that. My father passed into the Twilight Land seven hundred and sixty-two years ago. Since that time I have ruled the Shadow Court." I dragged a hand through my hair, frustration bubbling inside. "What does it matter, anyway?"
Asha stared at me incredulously. "What does it matter? Are you kidding me? It matters because you're a damned liar! It matters because you've wrecked my life!"
Her fists clenched and tears gathered in her eyes, tears of anger or distress. I couldn't tell. Maybe both.
"When this is all over you'll go back to your life, to your homeland with your palaces and your courtiers and god-alone-knows what else. But me?" she said. "Thanks to you I'm wanted by the cops—probably for murder. What do I have left? Nothing, that's what! So yeah, it matters, Raven!"
She fell silent, her chest heaving with emotion. I said nothing but her words slashed at me like shards of glass. She was right. Fates help me, she was right. How could I have been so callous? Had I seen her as an insignificant mortal whose life was worth nothing compared to my mission? Was I as bad as the Unseelie after all?
No. Never that. And she was not insignificant. Not to me.
The expression of half-fury, half-anguish on her face twisted me up inside. My fingers itched to touch her skin, my arms ached to reach out and fold her into an embrace. But that was me being selfish again, listening only to my own desires.
You've wrecked my life.
"Okay," I breathed. "You're right." I spread my hands to either side.
Download


Copyright Disclaimer:
This site does not store any files on its server. We only index and link to content provided by other sites. Please contact the content providers to delete copyright contents if any and email us, we'll remove relevant links or contents immediately.