Post-Impressionism by Nathalia Brodskaya
Author:Nathalia Brodskaya [Brodskaïa, Nathalia] , Date: September 22, 2017 ,Views: 1208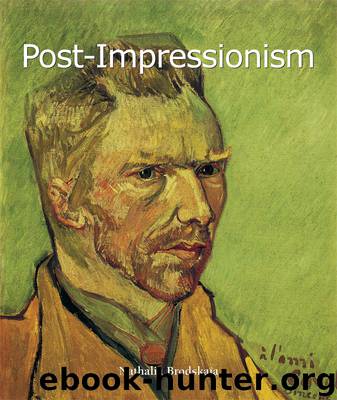 Author:Nathalia Brodskaya [Brodskaïa, Nathalia]
Language: eng
Format: epub
ISBN: 9781783103898
Publisher: Parkstone International
Published: 2014-04-08T04:00:00+00:00



84. Vincent van Gogh, Still Life with Irises, 1890.
Oil on canvas, 92 x 73.5 cm.
Van Gogh Museum, Amsterdam.
85. Vincent van Gogh, Dr. Paul Gachet, 1890.
Oil on canvas, 68 x 57 cm.
Musée d'Orsay, Paris.
86. Vincent van Gogh,
The Church at Auvers-sur-Oise seen from the Chevet, 1890.
Oil on canvas, 94 x 74.5 cm.
Musée d'Orsay, Paris.
87. Vincent van Gogh, Two Little Girls, 1890.
Oil on canvas, 51.2 x 51 cm.
Musée d'Orsay, Paris.
In this period, Vincent was already working with Gauguin. Paul Gauguin arrived in Arles on October 20, 1888. Van Gogh's dream to organise an association of artists came true, even if Gauguin was the only one who had agreed to participate in his project.
Despite this, Vincent considered Gauguin to be a great artist and wanted to give him the opportunity to breathe and work quietly and peacefully, in a style befitting a free artist."[31] He hoped that by working together in a few years they would end up becoming successful.
Vincent's letters were full of admiration for Gauguin's talent and human qualities. He was proud that Gauguin praised his paintings. Van Gogh very much wanted their communal life to work. Gauguin, however, did not share Vincent's naive confidence.
Their diverging opinions regarding painting were the greatest obstacle to a peaceful communal life. They went to Montpellier to visit a museum where they saw the paintings of Delacroix, Courbet and many other artists. "Gauguin and I discussed at length Delacroix, Rembrandt, etc. Our discussions were extremely heated. And after them we sometimes felt as empty as a discharged electric battery."[32] This was the cause of the tragedy that occurred December 23. Van Gogh brought part of an ear that he had cut off to one of the prostitutes in a local brothel. The increasingly heated atmosphere in their common house, as well as Gauguin's constant teasing, set off Vincent's first attack. Finding Vincent in a pool of blood in his bedroom, the terrified Gauguin had his friend sent to hospital and called Theo to Arles. He then left for Paris and never saw Vincent again. In hospital Vincent was placed under the care of Doctor Rey, a twenty-three-year-old physician. The doctor reassured Theo, assuring him that his brother would quickly recover. When he left the hospital on January 7, Vincent showed the studio to Rey. Thankful for the doctor's care and friendship, Vincent painted his portrait (Portrait of Dr. Rey). He tried to reassure his family in every possible way, and believed himself, that he had escaped with nothing worse than a fright. Right after his discharge from the hospital, Van Gogh painted a self-portrait with his bandaged ear. In it, he appears to be very calm. There is no despair in his face. At the beginning of February his strength seemed to have returned, and he wanted to work in the open air. But on February 9, he was re- admitted to hospital, having suffered from hallucinations. February 22, Vincent wrote to his brother, "The weather remains sunny and windy. I am spending a lot of time outdoors, but still sleep and board in the clinic.
Download


Copyright Disclaimer:
This site does not store any files on its server. We only index and link to content provided by other sites. Please contact the content providers to delete copyright contents if any and email us, we'll remove relevant links or contents immediately.