Out of My Mind by Draper Sharon M
Author:Draper, Sharon M. [M., Draper, Sharon] , Date: June 28, 2017 ,Views: 589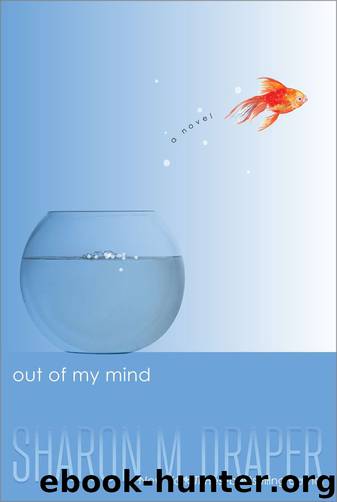 Author:Draper, Sharon M. [M., Draper, Sharon]
Language: eng
Format: epub, mobi
Publisher: Simon & Schuster, Inc.
Published: 2010-03-04T05:00:00+00:00



CHAPTER 17
As I've been getting used to using Elvira over the last month, life at school has been almost pleasant. Almost. I can ask Connor about a TV show that came on the night before or tell Jessica that I like her new shoes.
It's been snowing—just flurries—almost every day. Late one January afternoon I typed, "I hope we have a snow day—no school." Everybody agreed. For once, I got to speak for the class.
I can answer questions in class lots better with Elvira to help me. For the first time, instead of "pretend" grades that teachers would give me because they weren't quite sure if I knew the answer or not, I get real grades recorded in the teachers' grade books that are based on actual answers I've given. Printed out and everything!
But at recess I still sit alone. It's been too cold to go outside, so we sit in the far corner of the overheated cafeteria until it's time to go back to class. None of the girls gossip with me about some silly thing a boy has said. Nobody promises to call me after school. Nobody asks me to come to a birthday party or a sleepover. Not even Rose.
Sure, she'll stop and chat for a minute or two, but as soon as Janice or Paula calls her to come and look at a picture on a cell phone, Rose will say, "I'll be right back!" then skip away as if she's glad she has a reason to cut out on me.
I just smile, hope I wasn't drooling, and pretend I didn't notice. After a few minutes of faking it, I push the button for the sentence "Go back to H-5," and Catherine and I roll back down the hall.
One afternoon near the end of January, Mr. Dimming announced, in a voice that sounded like he'd been chewing on dry toast, "Instead of regular class today, I think we'll have a practice round for the Whiz Kids quiz team."
Everybody cheered because, otherwise, we would have had a lesson on the Sahara Desert. Talk about toasty and dry!
Every year our school sends a team to the Whiz Kids competition. The local rounds, with teams from elementary schools all around the city and county, are held downtown at a hotel. Last year our school got to second place in the whole district. The principal was so proud, she bought pizza for the entire school, even though the team was only for grades four, and five and six.
The first-place teams from across the state go to Washington, D.C., for the nationals. It's televised and is a really big deal.
Rose scooted her desk closer to mine. "I was on the Whiz Kids team last year," she told me.
"I know," I typed. "You're smart."
She beamed, then leaned closer. "Connor will probably get picked again too. He's a little hard to handle, but he's great with trivia."
I glanced over—Connor was boasting to his friends about last year's competition. "You ought to see the room in the hotel where they hold the contest.
Download


Copyright Disclaimer:
This site does not store any files on its server. We only index and link to content provided by other sites. Please contact the content providers to delete copyright contents if any and email us, we'll remove relevant links or contents immediately.