Our Land Before We Die by Jeff Guinn
Author:Jeff Guinn , Date: November 26, 2021 ,Views: 48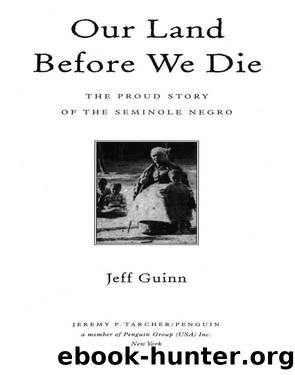 Author:Jeff Guinn
Language: eng
Format: epub
Publisher: Penguin Publishing Group
Published: 2010-02-28T16:00:00+00:00



chapter nine
ON A FREEZING Saturday morning in March 2001, ClarenceWard addressed a few dozen SISCA members huddled together for warmth in the scout association's tiny Brackettville park. Someone had built a small fire, but its flames were no match for the howling wind. It doesn't get cold too often in Brackettville, but when the northers do come howling in there are no buffering trees or hills to stop them from venting their full fury on the drab little town.
But Clarence had called people out anyway for a short ceremony. Ground was being broken for two outdoor toilets, so that association members and guests gathering in the park for programs wouldn't have to hustle to nearby gas stations every time their kidneys grew cramped. "This is a big thing for us," he told me on the phone a few weeks earlier, when he'd called to invite me down. "I want you to see for yourself that we're moving forward, getting things done."
Now, in the park, his teeth chattering a little, Clarence made a few formal remarks. He told the small crowd that they should feel proud of this important accomplishment, which proved the association was looking to the future. The bathrooms would be finished in time for Seminole Days in September, he promised, and then he named area businesses that promised to donate materials—one company was to give concrete mix, another some of the pipes: "We appreciate their help in accomplishing our important goals. Now, let's get to it—who remembered to bring a camera?"
Two hands went up. Clarence sidled over to me and whispered, "The newspaper here will run a picture if we take one and give it to them. Very important to my members." He pointed to a pile of shovels and said loudly, "Now, somebody pick those up and get ready to put 'em in the ground. Then we'll take the pictures."
"You be in it, Clarence," somebody suggested, and Clarence beamed.
"If you insist," he replied, and took one of the shovels. He and some of the others posed with the edges of their shovel blades just touching the hard-packed frozen dirt. The two Instamatics clicked, and Clarence asked his photographers to "quick snap off the rest of those rolls" so he could take them to a drugstore to be developed. After a few parting words, reminding everyone that the Brackettville paper would certainly run its story by the next weekend, Clarence hollered for everybody to go home and get warm. While they scattered to the pickup trucks parked outside the park's chain-link fence, Clarence kicked dirt on the fire and thanked me for coming.
Download


Copyright Disclaimer:
This site does not store any files on its server. We only index and link to content provided by other sites. Please contact the content providers to delete copyright contents if any and email us, we'll remove relevant links or contents immediately.