Mere Christianity by Lewis C. S
Author:Lewis, C. S. [Lewis, C. S.] , Date: August 5, 2020 ,Views: 301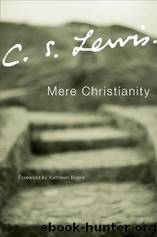 Author:Lewis, C. S. [Lewis, C. S.]
Language: eng
Format: epub
Tags: Religion
ISBN: 9780060652883
Barnesnoble:
Goodreads: 596510
Publisher: HarperSanFrancisco
Published: 1952-01-01T00:00:00+00:00



Mere Christianity
Chapter 15
Table of Contents
Chapter
17
C.S. Lewis:Mere Christianity.Chapter 17
CHAPTER 17
FORGIVENESS
I said in a previous chapter that chastity was the most unpopular of the Christian virtues. But I am not sure I was right. I believe there is one even more unpopular. It is laid down in the Christian rule, 'Thou shaft love thy neighbour as thyself.' Because in Christian morals 'thy neighbour' includes 'thy enemy,' and so we come up against this terrible duty of forgiving our enemies.
Every one says forgiveness is a lovely idea, until they have something to forgive, as we had during the war. And then, to mention the subject at all is to be greeted with howls of anger. It is not that people think this too high and difficult a virtue: it is that they think it hateful and contemptible. 'That sort of talk makes them sick,' they say. And half of you already want to ask me, I wonder how you'd feel about forgiving the Gestapo if you were a Pole or a Jew?'
So do I. I wonder very much. Just as when Christianity tells me that I must not deny my religion even to save myself from death by torture, I wonder very much what I should do when it came to the point. I am not trying to tell you in this book what I could do - I can do precious little - I am telling you what Christianity is. I did not invent it. And there, right in the middle of it, I find 'Forgive us our sins as we forgive those that sin against use' There is no slightest suggestion that we are offered forgiveness on any other terms. It is made perfectly clear that if we do not forgive we shall not be forgiven. There are no two ways about it. What are we to do?
It is going to be hard enough, anyway, but I think there are two things we can do to make it easier. When you start mathematics you do not begin with the calculus; you begin with simple addition. In the same way, if we really want (but all depends on really wanting) to learn how to forgive, perhaps we had better start with something easier than the Gestapo. One might start with forgiving one's husband or wife, or parents or children, or the nearest N.C.O., for something they have done or said in the last week. That will probably keep us busy for the moment. And secondly, we might try to understand exactly what loving your neighbour as yourself means. I have to love him as I love myself. Well, how exactly do I love myself?
Now that I come to think of it, I have not exactly got a feeling of fondness or affection for myself, and I do not even always enjoy my own society. So apparently 'Love your neighbour' does not mean 'feel fond of him' or 'find him attractive'. I ought to have seen that before, because, of course, you cannot feel fond of a person by trying.
Download


Copyright Disclaimer:
This site does not store any files on its server. We only index and link to content provided by other sites. Please contact the content providers to delete copyright contents if any and email us, we'll remove relevant links or contents immediately.