March 1917: the Red Wheel, Node III, Book 1 by Aleksandr Solzhenitsyn
Author:Aleksandr Solzhenitsyn , Date: March 18, 2023 ,Views: 56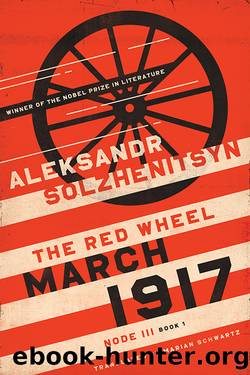 Author:Aleksandr Solzhenitsyn
Language: eng
Format: epub
Publisher: University of Notre Dame Press
Published: 2017-09-15T00:00:00+00:00



Ecstasy lifted him up—not to run to the editorial offices but to fly! Fear was pounding: would they be able to carry it off?
But before he could get away from Liteiny, from behind, from Nevsky, down the muffled stone canyon, dozens of terrifying shots cracked—and it was terrifying, but no one had fallen, no, everyone had fallen and hidden, but out of caution. The crowd had vanished, and the gateway recesses to the gates—all of which were locked—were jammed full. Fedya, too, started running for somewhere to perch. He wasn't a bit scared, he hadn't had time to be scared, only intellectually did he understand that it was foolish and a pity to be killed now by an invisible flying piece of lead death.
An elegant gentleman in a topcoat with a sealskin shawl collar was sprawled out face down in the dirty snow and hiding his head behind an iron post. Fedya had time to think that this was funny and shameful. But he himself didn't manage to slip away and find a spot anywhere: the front doors were locked, too. All the niches, all the uneven places in the walls were filled.
A burst—bang! bang! bang! He didn't have time to hide or run all the way to Basseinaya. Suddenly his ear distinguished among the shots another sound, unbroken, continuous—brass music! Up ahead.
He took a look: far ahead, mighty smoke was rising; something had been set afire. But roughly from the direction of the cathedral the head of a military column emerged onto Liteiny with a band—and turned there to continue down Liteiny. The band never stopped playing its bold, loud march! This march, often heard but not known by name, was conveyed to the nonmilitary man Kovynev with the same soldierly pride the composer had counted on: don't fall, don't run, don't hide—but forward march! Fedya stopped and looked ecstatically into the distance. He didn't think he'd ever heard music more beautiful! What a proud, uplifting summons! The horns' silver sounds and the drum's rumble.
Someone said:
"The Volynian Regiment!"
Fedya started that way, in their direction. More and more new gray files stepped out and turned down the avenue.
But somewhere, a volley was fired at—or over—them.
Fedya couldn't help himself. He espied a wall's outcropping and pressed up to it. And kept looking out. Right then a short, withered general ran up, breathing heavily, and immediately pressed up right beside him.
The shots kept cracking—but the Volynians marched along to the music and not one fell.
The music receded down Liteiny, toward the smoke. And occasionally, gunshots.
His neighbor the general had a noble, delicate, old man's face and a gray mustache. Fedya couldn't help himself and said to him:
"There, Your Excellency . . . you see . . ."
Download


Copyright Disclaimer:
This site does not store any files on its server. We only index and link to content provided by other sites. Please contact the content providers to delete copyright contents if any and email us, we'll remove relevant links or contents immediately.