How to Read the Weather by Storm Dunlop
Author:Storm Dunlop , Date: February 23, 2021 ,Views: 44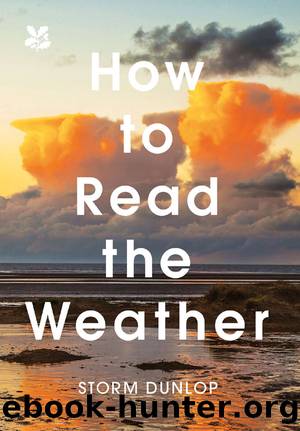 Author:Storm Dunlop
Language: eng
Format: epub
Publisher: Pavilion Books



Rain on the South Downs, West Sussex.
Updraughts and Downdraughts
When an ominous cumulonimbus shower cloud is approaching, carried by the prevailing wind, you may wonder why the surface wind sometimes appears to be flowing towards the cloud. In vigorous cumulonimbus clouds (in particular) the falling rain creates powerful cold downdraughts within the cloud itself. When these strike the ground, they tend to spread out ahead of the cloud. Sometimes they may be so strong as to cause a significant gust front ahead of the advancing cloud. The layer of cold air tends to undercut warm air that is being drawn into the cumulonimbus by the updraughts within it. It is this inward flow of air that forms the 'wind' towards the cloud, and which is often felt by observers, generally before the arrival of the cold gusts from the cloud itself. And this is why clouds sometimes appear to an observer to approach 'against the wind'. As the inflowing air is lifted away from the surface by the cold outflow it often forms a smooth-topped wedge of cloud – a shelf cloud – ahead of the cumulonimbus itself.
Download


Copyright Disclaimer:
This site does not store any files on its server. We only index and link to content provided by other sites. Please contact the content providers to delete copyright contents if any and email us, we'll remove relevant links or contents immediately.