How to Be Yourself by Ellen Hendriksen
Author:Ellen Hendriksen , Date: March 13, 2018 ,Views: 1738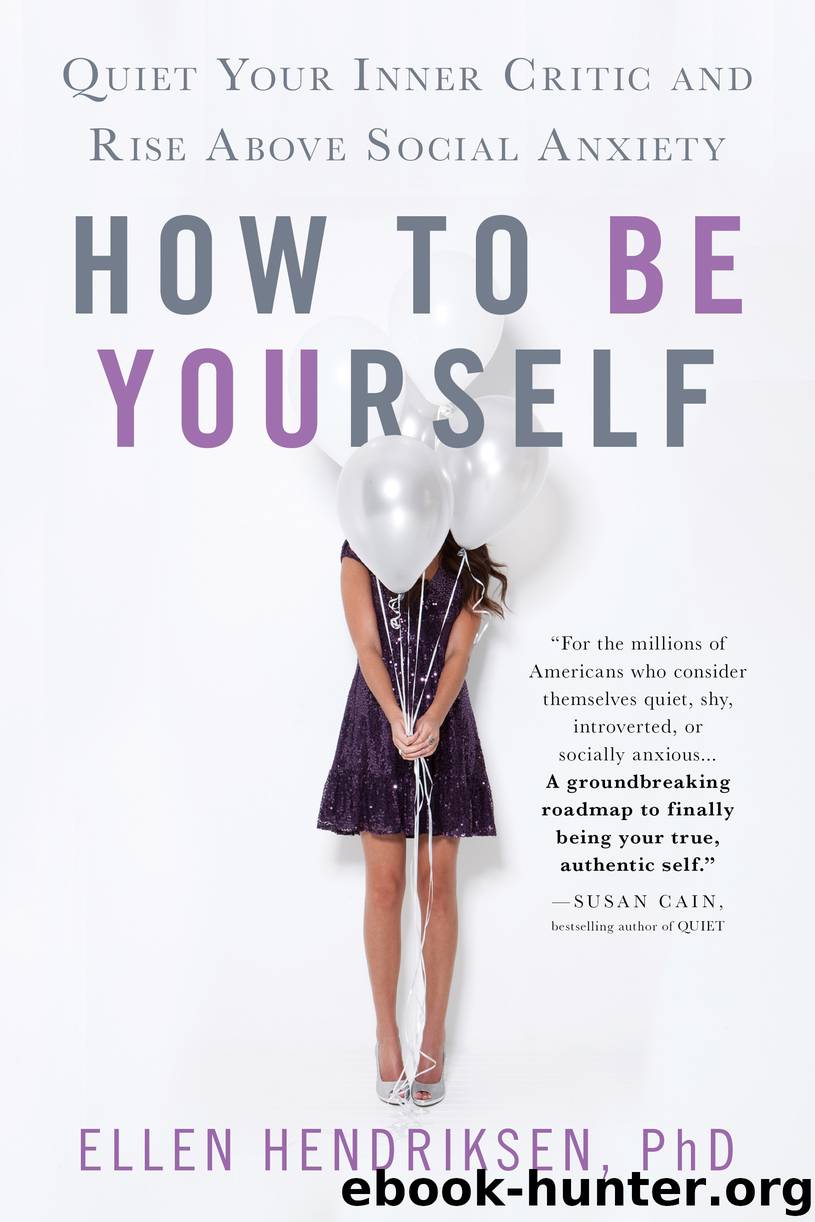 Author:Ellen Hendriksen
Language: eng
Format: epub
Publisher: St. Martin's Press



THE CHALLENGE LIST, PHASE THREE: TAKE IT ON HOME
Here we are, the home stretch. What are some things that scare you a lot? Don't move on to these until you're done with the things that scare you a little, then the things that scare you a little more, and you've experimented with dropping your safety behaviors. Even though we're almost at the deep end, we're still inching into the pool.
Something you may notice is that as you nudge yourself through the things that scare you a little and the things that scare you moderately, these biggest things may not scare you as much as they used to. They may still curl your toes, but there may be a tiny flame of willingness where there wasn't one before. Why? As you move through your small and medium challenges, you may be incrementally resetting your social anxiety set point. As Dr. Richard Heimberg so neatly summed up the process when I talked with him, "Good exposures set in motion a success spiral."
So let's bring it on home. What are your big stretches? Think of some concrete things that make you want to hide behind the curtains. If you start planning an escape route, you know you've found your last big challenges. Here are mine:
  8.  Contact and interview psychology luminaries for this book (breathe)
  9.  Do a live, on-camera interview with minimal notes (ack!)
10.  Send a real book out into the world containing my own story of social anxiety (double ack!)
For me, these definitely fit the bill. Cold-contacting academic titans and telling them I'm not only presumptuous enough to write a book about a topic they've spent their lives researching, but also they should volunteer their time and expertise to help me do it made my hair stand on end. I waited until embarrassingly close to the book due date to email them, afraid they would see me as a two-bit interloper who didn't know what I was talking about. But in reality, they couldn't have been more agreeable. Eighty percent of them emailed me back and were delighted to be interviewed. They opened their schedules and their minds, and they couldn't have been nicer about it.
Next, I was momentarily pumped but mostly terrified when I got an offer to do a live online interview. It was high time to vanquish my lifelong but irrational fear of video cameras, but that didn't mean I wanted to do it in front of an online audience of thousands. I admit I overprepared and overrehearsed, though it seemed vital in the moment. The night before, I had a hard time sleeping. The day of, I locked myself in my office and tried to work but instead fretted for hours in a haze of adrenaline. At the appointed time I logged on, and in ten minutes it was over. The host was friendly, actually laughed at my jokes, and invited me back anytime. I even got some complimentary emails from people who had seen me on the show. I had stared down the little green light on my laptop and lived to tell the tale.
Download


Copyright Disclaimer:
This site does not store any files on its server. We only index and link to content provided by other sites. Please contact the content providers to delete copyright contents if any and email us, we'll remove relevant links or contents immediately.