Finding Gene Kelly: A Novel by Torie Jean
Author:Torie Jean [Jean, Torie] , Date: November 28, 2022 ,Views: 23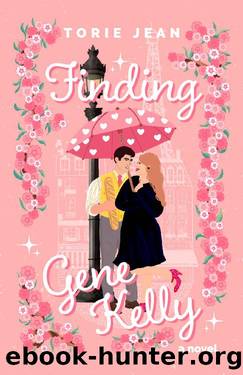 Author:Torie Jean [Jean, Torie]
Language: eng
Format: epub
Publisher: Sunset and Camden Creative
Published: 2022-09-19T16:00:00+00:00



"I swear they're in here." I chuckle, hands trembling, digging through my purse for my keys. "I mean, I locked the door so they—"
Liam reaches into the pocket of my trench coat, his stare pinned to me, and pulls them out.
"Right."
"You sure you want to do this?"
I nod with a swallow, plucking the key from his grasp and pivoting to unlock the door.
Liam's fingers graze the back of my neck, gathering my hair to one side, and then he presses a kiss on my bare skin, wrapping a hand around my waist.
"I can't concentrate when you do that." I fumble with the key, electricity flooding my system and jumbling my motor skills.
"Oh, does this fluster you, Evie?" he says, far too pleased with himself.
"I'll be flustering your ass in a moment," I grumble.
A loud mirthful laugh erupts behind me, giving me enough time for key meet hole. A satisfying click follows, and I exhale, opening the door. "I should be rethinking this." I shake my head, kicking off my shoes.
"But you aren't?" He studies me.
"Unfortunately, no." I slam Liam's back against the door. He grabs my hips, fingers firm and sure, and pulls me close.
"Good," he breathes out before our lips crash into each other. None of the electricity arcing between us has dissipated, and this feels less and less like a show and more like a conversation.
The poet Alfred de Musset once said, "the only true language in the world is a kiss," and as Liam's other hand tangles in my mess of strawberry curls, I can't help but think that's what this is. So many things left unsaid bubble to the surface, baring themselves in the warm sunlight of this embrace. Like somehow, our kisses were inevitable. The magnetic pull would never relent until our lips were finally molded together.
A soft moan emits from my throat as his tongue sweeps inside my mouth. If the first few kisses were an act to satiate a pang of hunger, this—this is an imprint. It's like he's claiming my mouth for his own, saying no one else will do from here on out.
A shiver works through me, and I catch my breath. I close my eyes, focusing on the butterflies, the goosebumps, the fire ripping through me and consuming the usual hell.
I. Feel. Good.
You're screwed, the chaos gremlin says almost gleefully in my head.
I tell it to shut up so I can focus on everything going on here—the heat of him, the spiral of my pulse, the eagerness of his kiss.
His tongue urges my lips apart, shifting, growing in desire and need. My fingers hungrily work on undoing the buttons on his shirt. A muffled groan leaves him while he grips my waist to place me up on the counter. He pulls away, dragging his teeth along my bottom lip.
His fingers swiftly undo the buttons on my shirt as he lays a cascade of kisses along the nape of my neck and down my shoulder in a desperate exploration of my body.
Download


Copyright Disclaimer:
This site does not store any files on its server. We only index and link to content provided by other sites. Please contact the content providers to delete copyright contents if any and email us, we'll remove relevant links or contents immediately.