Fearless by Mandy Gonzalez
Author:Mandy Gonzalez , Date: April 9, 2021 ,Views: 24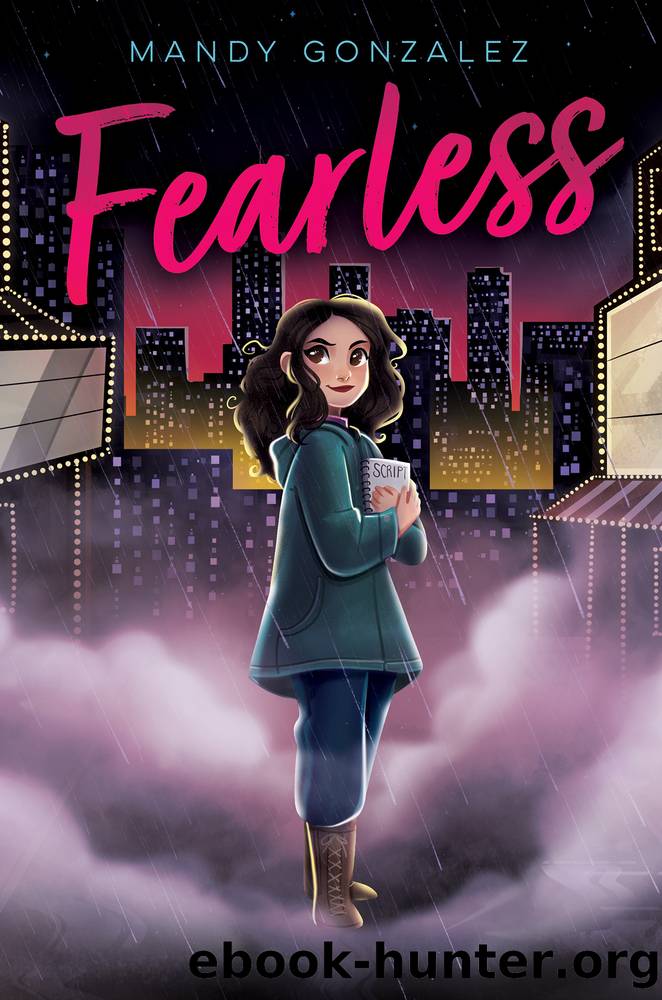 Author:Mandy Gonzalez
Language: eng
Format: epub
Publisher: Aladdin
Published: 2021-04-06T00:00:00+00:00



Eight SUNDAY
Nineteen days until opening night
Miss Susan, the acting coach, walked into Studio A with beautiful long beaded cornrows, a flowing rainbow silk dress, and very straight posture. A grouping of gold bangles clinked together on one wrist as she moved. The four kids, who had been pink-eyed with sleepiness, suddenly perked up. "See how I just walked into the room?" Miss Susan said. "I took up space." A sense of liveliness breathed brilliance into the otherwise dreary rehearsal room.
"Today's Sunday," Miss Susan said, putting down her big, full purse. "I never work Sundays," she said in a cross tone. Then she smiled. "Why am I working on a Sunday?"
April raised her hand. "Because we need help?"
"Because you need help!" Miss Susan said with a laugh. "You've had a tough time so far," she continued. "But you're not gonna care about that. I'm not gonna care about that. You know what I'm gonna care about?" She turned and looked at herself in the full-length mirror, striking a dramatic pose. "Being buttery."
The kids laughed.
"What do I mean by that? I mean I'm going to be smooth with my body language, with my voice, with my presence onstage. My confidence. You won't be able to take your eyes off me."
It occurred to Monica that maybe they could talk frankly with Miss Susan about the problems at the Ethel Merman. Miss Susan swayed from side to side as she studied the kids. She didn't ask about Monica being new to the group. She didn't do small talk. She was very easygoing.
"Let's start with an improv exercise to warm up."
She pulled out a newspaper from her purse and, pointing to Relly and Hudson, said, "Why don't you two begin. One of you will sell this newspaper and the other will buy it. Act out the scene."
Relly took the newspaper and looked at Miss Susan. "I don't get it."
Realizing right away he had never taken an acting class before, she explained the exercise in greater detail. "Imagine the setting. Create your characters. Buying a newspaper can be boring. Focus on drawing us in. Be careful not to overact. I'll give you ten seconds to talk about your approach, then a minute to act it out."
Relly and Hudson picked up on the exercise right away. Hudson would be the buyer, Relly the seller. In seconds they had the group laughing. A tug-of-war took place over the newspaper, and the boys flew through the air, chasing the paper and the money down the street. It was brilliant.
"Bravo!" Miss Susan applauded vigorously. "Perfect in-the-moment improv. Comedic timing, spot-on!"
Monica waited quietly, cross-legged on the floor, until Miss Susan's eyes landed on her. The truth was, Monica could get by on her acting skills, but she'd never in her life done an acting class, much less improv.
"Girls, your turn. Same scene."
April was already up and ready to tell Monica her idea for the scene. She had done these exercises a million times in acting class.
"Think about your props," Miss Susan said.
Download


Copyright Disclaimer:
This site does not store any files on its server. We only index and link to content provided by other sites. Please contact the content providers to delete copyright contents if any and email us, we'll remove relevant links or contents immediately.