Essex Dogs (Essex Dogs Trilogy) by Jones Dan
Author:Jones, Dan [Jones, Dan] , Date: September 16, 2022 ,Views: 110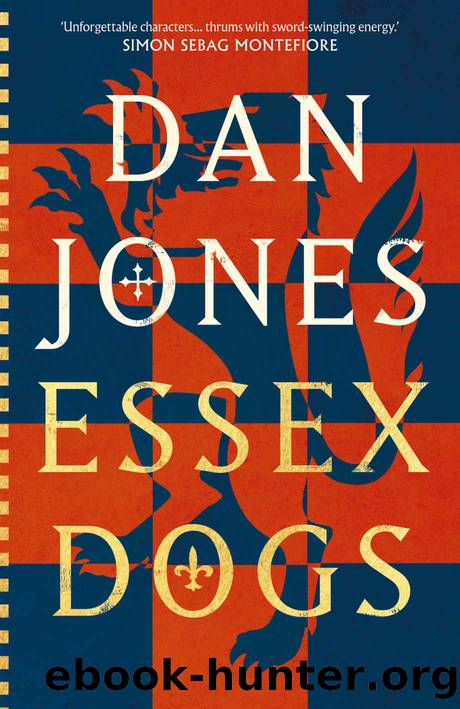 Author:Jones, Dan [Jones, Dan]
Language: eng
Format: epub
ISBN: 9781838937881
Publisher: Head of Zeus
Published: 2022-09-15T00:00:00+00:00



17
The King of England became master of Caen, though at a heavy price…
Chronicles of Jean Froissart
The body of the army flowed round them like the rush of a tide. Loveday's horse reared and pulled, but she did not throw him.
By the time Loveday had his mare under control, the line had passed them, leaving only straggling runners: the fat, lazy and lame, jogging to join the roaring thousands who were rushing to Caen's crumbling walls, and the riverbanks that protected the island suburbs.
Loveday threw down his flag and looked for Pismire.
He saw him with Scotsman, scanning the field. They had already wheeled their horses. Loveday knew what they would be thinking.
Find the Dogs. Get into the city. Find Father.
He guessed Tebbe, Thorp and the Welshmen would by now be somewhere among Warwick's host. Loveday knew they would be keeping their distance from Sir Robert. Romford would be with the prince – although what that meant for the lad, Loveday did not dare imagine. He tried not to wonder where Millstone might be.
He drew his steaming mare alongside those of Pismire and Scotsman. 'Weapons first,' he said. 'Let's find the baggage train. Then we'll get back there and rescue Father. But we can't run towards a fight without arms.'
'Aye. Let's be quick,' said the Scotsman.
They kicked their mares and cantered to the woodline. It took them no time at all to find an armourer with a selection of swords, axes and short pikes. Rough weapons, but sharp and serviceable.
They picked the weapons they liked best. Loveday and Pismire selected short swords and daggers. Scotsman grabbed a large, long-handled axe, with a double head and a leather strap, so he could sling it on his back. They took Warwick's horses back to a corral where grooms had water and fodder.
Then they set out at a jog, back towards Caen, to join the siege.
Download


Copyright Disclaimer:
This site does not store any files on its server. We only index and link to content provided by other sites. Please contact the content providers to delete copyright contents if any and email us, we'll remove relevant links or contents immediately.