Demon's Wish by Xenia Melzer
Author:Xenia Melzer [Melzer, Xenia] , Date: April 10, 2021 ,Views: 31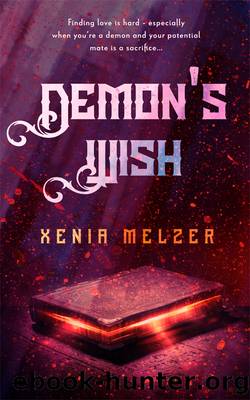 Author:Xenia Melzer [Melzer, Xenia]
Language: eng
Format: epub
Tags: LGBT Paranormal Romance Fiction
Publisher: Totally Entwined Group
Published: 2020-09-20T00:00:00+00:00



* * * *
As Sammy had predicted, it didn't take long for them to get the shop straightened out. As soon as they entered Sammy's kitchen, he handed Dre a stack of menus from delivery places in Beaconville.
"Have you got a hankering for anything?" Dre looked at Sammy. Sammy shook his head.
"No, I'm good with anything. The Chinese is decent, and the pizza place makes a delicious panna cotta."
Dre shifted through the stack until he found the two menus in question. He wasn't a great fan of Chinese food, but he did love a greasy pizza. "How about we order two pizzas, extra-large—one meat lover and one with four cheeses—plus two helpings of panna cotta and one salad."
Sammy grinned. "Low on the greens, I like that. We can take it all to the couch and watch a movie."
"How about A Fish Called Wanda?" Dre tried his hardest to look suggestively.
"Great idea. Though I do have to warn you… I'm not sure if you can match up to John Cleese."
"Uh, I bet I do. Wanna know why? Because I, mo grah thu, happen to speak fluent demon, which is a lot more erotic than Italian."
"Is it?" Sammy raised a brow. "I haven't heard you speak demon, but I always imagined it would sound a bit like Klingon."
Dre pressed one hand to his chest and the back of the other against his forehead, feigning consternation. "Klingon! I'm wounded. Deeply wounded. The demon tongue is pure poetry." He sighed. "I better start teaching you, so you can appreciate it in its full glory."
Sammy laughed out loud. "You do that." He wrinkled his nose. "After I have a shower. I reek."
"Only of the best things—coffee, muffins and books."
"You charmer. I don't believe you, since you're biased. Can you order our meal? I'm in their database."
Dre saluted. "Will do that. Take your time under the shower."
Sammy sauntered over and pressed a kiss to Dre's lips. "Thank you, Dre." The look in Sammy's eyes told Dre he was thanking him for more than just ordering their dinner. He caressed Sammy's hair, wondering how he had managed to fall so hard for the man in such a short time.
"It's fine, mo grah thu. Go shower. We can talk later."
With one last kiss, Sammy vanished through the kitchen door. Once Dre heard the water in the shower running, he took out his cell to make their order. While he waited for Sammy to finish his shower, Dre made himself comfortable in the living room, where Sammy had one of those couches with a seating surface so big that it was impossible not to put your feet up if you wanted to lean against the backrest. The cover was made of a sturdy canvas material in different shades of orange to red with six fluffy pillows in yellow. The floor was done with light hardwood planks, which went well with the white walls and furniture that provided a nice contrast to the colorful couch. A slim wardrobe with the
Download


Copyright Disclaimer:
This site does not store any files on its server. We only index and link to content provided by other sites. Please contact the content providers to delete copyright contents if any and email us, we'll remove relevant links or contents immediately.