Cryptocurrency by Neil Hoffman
Author:Neil Hoffman , Date: January 20, 2018 ,Views: 1190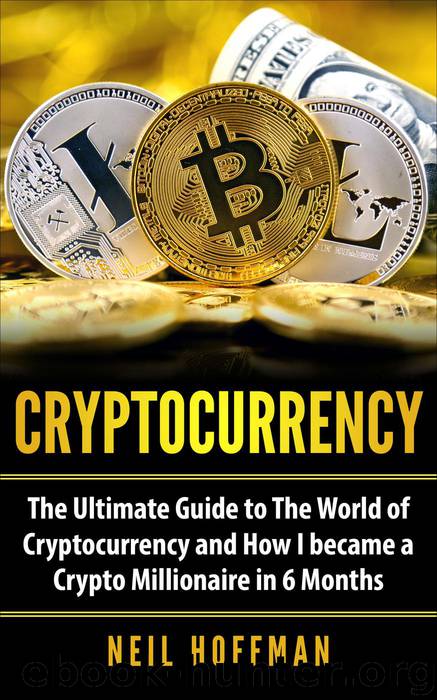 Author:Neil Hoffman
Language: eng
Format: epub
Tags: Cryptocurrency, Bitcoin, Blockchain, Cryptocurrency books, Crypto, crypto trading, cryptocurrency trading, bitcoin trading, bitcoin exchange, crypto mining, bitcoin mining, cryptocurrency investing, mining, trading, digital currency, bitcoin miner, e-commerce, how to make money, blockchain books, bitcoin guidebook, bitcoin non-technical book, crytocurrency, crytocurrency books, crytocurrencies, crytocurrency trading, cryto trading, money, money making, how to become millionaire, block chain, millionaire, ethereum, crytocurrencies books, bitcoin basics, cryptocurrency for dummies, cryptocurrencies dummies, bitcoin for dummies
Publisher: Ténzy Publisher
Published: 2017-10-20T04:00:00+00:00



Insurance
It is always best to earn on the side of caution and insurance is one of the best ways to do that. There are some exchange houses that offer insurance coverage to protect your currency, or you can choose to work with third-party carriers but be warned these may come at an additional cost.
Start Buying
Now it is time to start building up your crypto portfolio. As we discussed before you can begin by buying and selling on the exchange, but you can also connect with other people or websites to purchase your currency. To make your purchase, all you need to do is give them your public key in your wallet so they can transfer the currency to your account.
Trade
Once you have collected enough cryptocurrency, you may decide that you want to trade it for another type of currency. Once all the steps are done, you can easily make a trade through your exchange house or any exchange house that is set up to exchange currencies for your particular pair.
No matter what decisions you make, it is always important to ask a lot of questions before you make a final decision to invest. Remember, you will be dealing with assets that are not physical, so you won't walk away with something in your hand.
It's not like negotiating for a car where at the end of the process you can drive it off the lot. Everything will always remain in the digital realm, so you need to verify everything and then double check it to make sure you're getting what you're paying for.
When looking at a currency, you want to find something that will not only give you a good trade now but has the potential for generating earnings in the future. Look for currencies that have the credibility and the history to show that you will be able to hold onto your money.
Make sure that the currency you choose is not going to drop in value overnight. It is normal for a price to fluctuate up and down over time but the currency that makes drastic drops is something to be wary of.
Ask yourself if you plan to be in this for the long haul or are you looking for short-term returns. Once you're set up, it is just as easy to exit a trade as it is to get into it. However, in determining how long you will stay will depend on what type of market you want to play in. A bullish market is more favorable to buyers, a bearish market is more favorable to sellers, and a break-even market is just what it says it is.
Beginners usually rely on several basic strategies until they get comfortable with the market. They may start with something as simple as arbitrage where transactions are made very quickly. You buy low and sell high. Since there are no standard market rates to go by, you can buy from one market and sell the same day to another market and make a profit as you do.
Download


Copyright Disclaimer:
This site does not store any files on its server. We only index and link to content provided by other sites. Please contact the content providers to delete copyright contents if any and email us, we'll remove relevant links or contents immediately.