Christopher Hitchens by The Portable Atheist: Essential Readings for the Nonbeliever
Author:The Portable Atheist: Essential Readings for the Nonbeliever , Date: October 7, 2017 ,Views: 909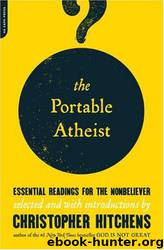 Author:The Portable Atheist: Essential Readings for the Nonbeliever
Language: eng
Format: mobi
Tags: Agnosticism & atheism, Sociology, Religion: general, Social Science, Philosophy, General, Atheism, Religion, Anthologies (non-poetry), Religion: Comparative, Religion - World Religions, Literary essays, General & Reference
ISBN: 9780306816086
Publisher: Da Capo
Published: 2007-11-05T05:00:00+00:00



From Roger's Version
JOHN UPDIKE
This great American writer is as far as I know not an atheist, but he has the novelist's ability to put an admirable argument into the mouth of an unsympathetic character. Here, Kriegman deals with a frequ ntly heard cocktail-party argument about the supposedly marvelous contingencies that make our existence possible in the first place. (We shall be returning to this point in less literary and less vernacular forms.)
"You go, sweetheart. O.K., young fella, hit me with those theories of yours."
To Dale at the moment these theories are as hatefully irrelevant and obscure as the exact words being exchanged in the cheerful cacophony of these many rooms of mine, where the word "Bitburg" keeps sounding like a bird chirp. Esther's closeness, and the ambiguity of their conversation, have tantalized him; his renewed glimpse and scent of the woman-lover, that radiant animal who waits crouching at the head of the stairs, at the end of all these crooked, noisy, obstructed social corridors, have left him dazed. His mind aches like an overexercised body. Yet he politely offers, as on the other side of the world priests peddle candles in the clamor of the weary holy places, the cosmic arguments: the hugely long odds against the big bang's having worked out so well, the horizon, smoothness, and flatness problems, the incredible necessary precision of the weak-and strong-force constants, not to mention that of the gravitational-coupling constant and the neutron mass, were any of which different by even a few ten-thousandths the universe would have been too explosive or diffuse, too short-lived or too utterly homogenous to contain galaxies, stars, planets, life, and Man.
Kriegman hears all this out with bursts of rapid nodding that bounce his chins on the knot of his necktie and wag the blossoms of the azalea garland he still wears. As if better to understand, he has put on large squarish horn-rims, trifocals; behind their lenses, between sips from his flexible plastic glass of white wine (Almaden Mountain Rhine, $8.87 per three-liter jug at Boulevard Bottle), his small eyes jump and change size as they jiggle among the three levels of focal length. "Well," he says at last, smiling like a man who even as he talks is listening to a background music with sentimental associations, "nobody denies the big bang has a few wrinkles we don't comprehend yet, we may never comprehend for that matter; for example, I was reading the other day that even the oldest star clusters show traces of the heavy elements, which is strange because there's no older generation of stars to have cooked them up and as you know the particle mechanics of the big bang could only have supplied helium and hydrogen, right?"
Dale wonders if he's supposed to say, "Right." He foresees that he will not have to say very much.
"Listen, there's always going to be wrinkles," Kriegman is telling him with a fatherly gruffness. "This primal fireball et cetera, and all this field theory in those first fractions of a second, we're talking about virtually incomprehensible events, ridiculously long ago.
Download


Copyright Disclaimer:
This site does not store any files on its server. We only index and link to content provided by other sites. Please contact the content providers to delete copyright contents if any and email us, we'll remove relevant links or contents immediately.