Years of Rage by D. J. Mulloy
Author:D. J. Mulloy , Date: September 23, 2022 ,Views: 69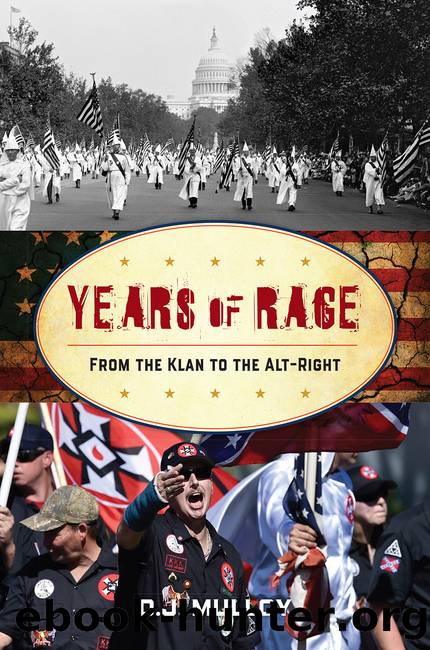 Author:D. J. Mulloy
Language: eng
Format: epub
Publisher: Rowman & Littlefield Publishers
Published: 2021-09-21T00:00:00+00:00



In other words, those operating above ground—producing newsletters, engaging in speeches, publishing books, making sermons, or posting on computer bulletin boards—would provide the general ideological and political direction, but it would be for those in the underground, dispersed and untraceable, to carry out the necessary "actions." Not coincidently, Beam and Butler, both engineers, were hard at work creating a computer network called Aryan Liberty Net at precisely this time.
Robert Miles also believed in the concept of leaderless resistance, although he often used the metaphor of a "web" to describe it. "In any web, each intersecting point is tied to many other points," he explained. "In a chain type organization, one link is suspended by only the one above it. Let one link fail, and the function of the entire chain fails. Let one strand, on the contrary with a web break, and the function of the web is unimpaired." Miles also rejected the idea of public paramilitary training camps, arguing that if racist activists needed such training they should join the military, or a gun club, rather than making themselves both visible and vulnerable in this way.
Born in 1925 in Bridgeport, Connecticut, Miles was another of the patriarchs of the movement. He had served with the U.S. Navy during the Second World War, became a member of Robert Shelton's United Klans of America in the 1960s, and spent six years in the federal prison, in Marion, Illinois, for the 1971 fire-bombing of ten empty school buses in Lansing, Michigan, in protest against school integration. Upon his release in 1979, he became another "ambassador at large" for the Aryan Nations. He also ran his own "Dualist" Mountain Church, based on his farm in Cohoctah, Michigan, where he published a monthly newsletter, From the Mountain, and oversaw a prison outreach program, which had its own newsletter called Beyond the Bars . . . The Stars! As Martin Durham notes, although superficially similar to Identity Christianity, Miles's Dualism was actually somewhat different. As Miles saw it, for example, the ongoing battle between God and the Devil predated Christianity altogether. He also believed that God had dispatched whites to earth in order to conquer it for Him in the face of evil angels composed of "dirt, dust, and mud."
Miles's twice-yearly gatherings at Cohoctah, one in the spring and one in the fall, although smaller in scope than Butler's Aryan World Congress or Harrell's Freedom Festivals, were also important. Among those in attendance in April 1986, for example, were William Pierce, Thom Robb, the Alabama Klan leader Don Black, and the head of the White Patriot Party, Glenn Miller.
In addition to his support for leaderless resistance—and the Northwest Territorial Imperative—another of Miles's contributions as a white supremacist theorist was his concept of the "Fifth Era Klan." The First Era Klan was the Reconstruction Klan, he explained, the Second Era encompassed the 1920s, and the Third Era in the 1960s. David Duke's "Television Era" represented the Fourth Era, and it was this period that Miles really took to task.
Download


Copyright Disclaimer:
This site does not store any files on its server. We only index and link to content provided by other sites. Please contact the content providers to delete copyright contents if any and email us, we'll remove relevant links or contents immediately.