The Killing Ground: A World War 3 Techno-Thriller Action Event (Nick Ryan's World War 3 Military Fiction Technothrillers) by Nick Ryan
Author:Nick Ryan , Date: November 25, 2021 ,Views: 50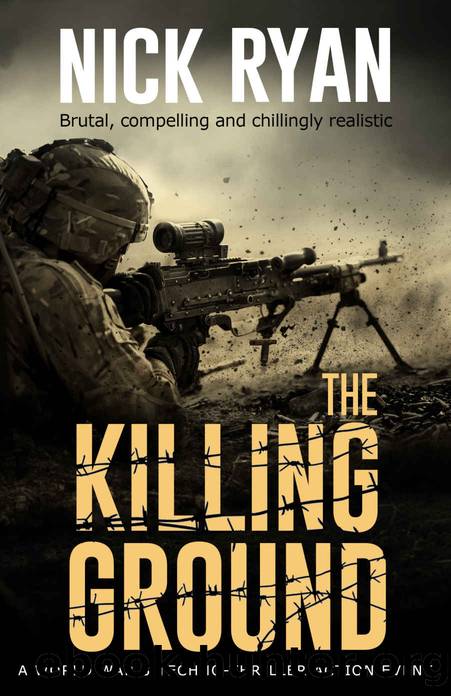 Author:Nick Ryan
Language: eng
Format: mobi
Published: 2021-09-27T23:00:00+00:00



*
The British tanks needed fuel. "There is a depot on the eastern outskirts of Elblag," the young Polish sapper offered helpfully. "It belonged to a French unit that garrisoned the city before the retreat from Warsaw."
"Where are the French?"
"They're all to the north. They fled with the defeated armies."
The streets of Elblag were a deserted ruin of rubble and fire-charred remains. Most of the local inhabitants had evacuated their homes when news first reached them that Warsaw had fallen to the Russians, and the Allied armies were retreating towards Gdansk. Now there was just a few barking, starving dogs in the streets as the three Challenger 2 tanks trundled through the maze of alleyways in search of the French supply depot.
The buildings the French Army had occupied had been looted, but a CaRaPACE armored fuel tanker truck and three Renault Kerax heavy duty transport trucks were still parked in the motor pool. McLane and his men left the refueling task to the British tankies and instead scouted the ruins along the city's riverbank.
There was an eerie oppressive stillness to the city that McLane found unsettling. There were looted and naked bodies strewn along the watercourse. The dead lay scattered in tortured poses, their flesh picked to the bone by the carrion birds and their corpses swollen and turning purple. There were more dead in the shadow-struck alleys; several had been killed by the Russian bombing raids, others had been crushed in the ruined buildings when they had collapsed. Dogs had gnawed and mauled some of the bodies.
McLane walked to the end of a narrow lane and peered south. He had a view to the outskirts of the city. The air was still, the sky overhead made brooding and sullen by the onset of dusk. The world seemed crushed under an oppressive silence as though cringing from imminent carnage and chaos.
He scratched at the unshaven stubble across his jaw and then blinked in sudden shock and gut-sick dread. On the skyline the imminent carnage and chaos the world had been cowering from suddenly appeared on the distant skyline in the form of a column of Russian tanks.
"Christ!" Then McLane was turning and shouting, his voice urgent as he broke into a desperate run. "Get back to the Challengers on the double. Move it Mountaineers!"
Download


Copyright Disclaimer:
This site does not store any files on its server. We only index and link to content provided by other sites. Please contact the content providers to delete copyright contents if any and email us, we'll remove relevant links or contents immediately.