Someone's Watching Me by Zoe Rosi
Author:Zoe Rosi [Rosi, Zoe] , Date: September 16, 2022 ,Views: 81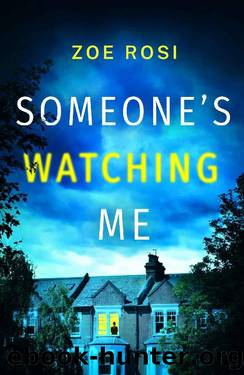 Author:Zoe Rosi [Rosi, Zoe]
Language: eng
Format: epub
Publisher: Thomas & Mercer
Published: 2022-09-14T16:00:00+00:00



Chapter Nineteen
I find cooking so soothing. There's something uniquely relaxing about following a recipe: the steady rhythm of the kitchen knife as I slice onions and peppers and listen to the sound of them sizzling as I add them to the oil bubbling in my pan. I breathe in the smells that permeate the kitchen as I add each new ingredient. I lose myself in the process, my worries taking a back seat.
I pour a glass of wine as a relaxing playlist flows from my iPhone speakers. I finish preparing the meat mixture and take a dish from the cupboard. then start layering the lasagne, spooning the mixture into the dish and adding the pasta sheets.
Glancing at the clock, I see that Alex won't be back for another hour. I'll leave the salad preparation until later. I pick up my glass of wine as Adele plays in the background. I look out of the kitchen window. It's dark outside now. The light in Max's kitchen suddenly comes on and I flinch, fear cutting through my domestic bubble. I half expect him to be standing there, staring at me with his cold dark eyes, but he's not. All I see is his neat, empty kitchen. It looks surprisingly clean and cosy. There are candles on the dining table and a vase of flowers on the window sill.
Then suddenly Max appears in his kitchen doorway. I stiffen and take a step back from the window. I should close my kitchen blinds and block him out entirely and yet I can't quite bring myself to. I'm curious about him now. I want to make sense of this mysterious stranger.
I stand at the side of the window and watch him as he takes a lighter from a drawer and lights the candles. He doesn't look my way, which surprises me given how much he likes to stare, but it's a relief. He looks busy, lost in his own thoughts. He's dressed smartly – a complete contrast to how he looked this morning in his dirty jogging bottoms and old jumper. He's wearing dark trousers and a black shirt, and his hair is clean and styled. He looks normal, handsome even. He glances around his kitchen as though appraising it and reaches for a cloth, wiping a surface clean. He picks something up from the counter and puts it in the bin. He lights another few candles and then looks around the room one more time before leaving. He's clearly expecting a guest.
The music has changed from Adele to Sam Smith, and I top up my glass of wine. Bizarrely, I'm enjoying myself. It feels like the roles between me and Max are reversing. The spied-upon is becoming the spy. I would never normally be such a nosy neighbour, a snoop, and yet I'm suspicious now. I find myself curious to see who he's having over and what he does at the weekend when he's not blasting out music and annoying his neighbours.
I decide to go ahead with making the salad.
Download


Copyright Disclaimer:
This site does not store any files on its server. We only index and link to content provided by other sites. Please contact the content providers to delete copyright contents if any and email us, we'll remove relevant links or contents immediately.