Point Blanc (1987) by Athony Horowitz
Author:Athony Horowitz , Date: July 31, 2017 ,Views: 282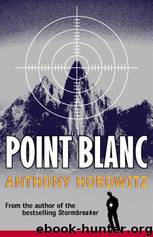 Author:Athony Horowitz
Format: epub
Published: 1987-07-30T16:00:00+00:00



10
THINGS THAT GO CLICK IN THE NIGHT
AT THE END OF HIS FIRST week at Point Blanc, Alex drew up a list of the six boys with whom he shared the school. It was midafternoon, and he was alone in his room. A notepad was open in front of him. It had taken him about half an hour to put together the names and the few details that he had. He only wished he had more.
HUGO VRIES (14) Dutch. Lives in Amsterdam. Brown hair, green eyes. Father's name, Rudi. Owns diamond mines. Speaks little English. Reads and plays guitar. Very solitary. Sent to PB for major shoplifting and arson.
TOM MCMORIN (14) Canadian. From Vancouver. Parents divorced. Mother runs media empire (newspapers, TV). Reddish hair, blue eyes. Well built, chess player. Car thefts and drunken driving…sent to PB.
NICOLAS MARC (14) French…from Bordeaux? Expelled from private school in Paris, cause unknown. Drugs? Brown hair, brown eyes, very fit all around. Tattoo of devil on left shoulder. Good at sports. Father = Anthony Marc. Airlines, pop music, hotels. Never mentions his mother.
CASSIAN JAMES (14) American. Fair hair, brown eyes. Mother = Jill…studio chief in Hollywood. Parents divorced. Writes poetry, plays jazz piano. Expelled from six schools. Various drugs offenses. Sent to PB after smuggling arrest. Tells jokes. Seems popular.
JOE CANTERBURY (14) American. Spends much of his time with Cassian. Brown hair, blue eyes. Mother (name unknown) New York senator. Father something major at the Pentagon. Vandalism, truancy, shoplifting. Claims to have own motorbike and three girlfriends (!) in Los Angeles.
JAMES SPRINTZ (14) German. Father = Dieter Sprintz, banker, well-known financier (the hundred-milliondollar man). Mother living in England. Brown hair, dark blue eyes, pale. Lives in Dusseldorf. Expelled for wounding a teacher with an air pistol. Closest I've got to a friend at PB-the only one who really hates it here.
Lying on his bed, Alex studied the list. What did it tell him? Not a great deal.
First, all the boys were the same age: fourteen, the same age as him. At least three of them, and possibly four, had parents who were either divorced or separated. They all came from hugely wealthy backgrounds. Blunt had already told him that was the case, but Alex was surprised by just how diverse the parents were. Airlines, diamonds, politics, and movies. France, Holland, Canada, and America. Each one of them was at the top of his or her field, and those fields covered just about every human activity. He himself was supposed to be the son of a supermarket king. Food. That was another world industry he could check off.
At least two of the boys had been arrested for shoplift ing. Two had been involved with drugs. But Alex knew that the list somehow hid more than it revealed. With the exception of James, it was hard to pin down what made the boys at Point Blanc different. In a strange way, they all looked the same.
Their eyes and hair were different colors. They wore different clothes. All the faces were different: Tom handsome and confident, Joe quiet and watchful.
Download


Copyright Disclaimer:
This site does not store any files on its server. We only index and link to content provided by other sites. Please contact the content providers to delete copyright contents if any and email us, we'll remove relevant links or contents immediately.