Plague Among the Magnolias by Nuwer Deanne
Author:Nuwer, Deanne. [Nuwer, Deanne Stephens] , Date: November 25, 2021 ,Views: 69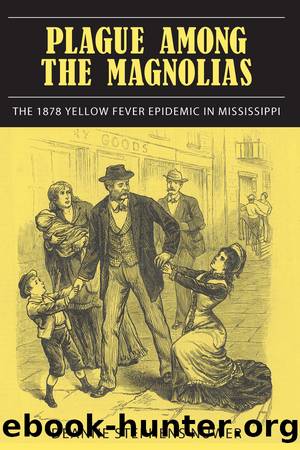 Author:Nuwer, Deanne. [Nuwer, Deanne Stephens]
Language: eng
Format: epub
ISBN: 9780817382445
Publisher: University of Alabama Press



6
Mississippi and the Affirmation of Antebellum Values
The circle steadily narrows.
—Jefferson Davis, New York Herald, October 22, 1878
The "normality" that appeared in Mississippi in 1878 was the reaffirmation of antebellum white social values—self-government, civic-mindedness, and a sense of duty on the part of white elites, with a concomitant racism toward African Americans. However, these values were weakened and proved to be ineffectual. By focusing on individual acts of heroism, white Mississippians could take pride in themselves even as "southern values" proved so ineffective in the epidemic. This was particularly clearly displayed in October 1878, as the disease spread to its widest geographical extent.
During that month, the more urban locales that had been first infected with the contagion began to experience a decline in both case and death numbers. However, health officials in the rural villages and crossroads began to record greater numbers of victims. Refugees fleeing the contagion in cities had more than likely carried yellow fever to the more rural parts of the state. Consequently, the pattern was one of constant infection and reinfection, thereby disrupting routine day-to-day activities during the month of October.1
The disease's appearance in locales once free from yellow fever created an even more panicked atmosphere because citizens in those areas had believed they were safe from the contagion, as had those who had fled to these regions. As ever, quarantines compounded the problem—they were either too lax to prevent spread of the disease or so strict that they paralyzed communities. Quarantines remained in effect through October, restricting both urban and rural activities, even as the mosquitoes slipped through lines of defense. Thus commercial interruptions continued in Mississippi, and many regions began to look to federal aid and continued distributions from Howard associations and other benevolent organizations to carry them through these difficult times. Federal aid played an increasingly important role as the epidemic continued into the fall months. Yet at no time does one find such an emphasis on civic duty resulting in homegrown heroism and mixed with affirmation of white antebellum values.
An important example of this phenomenon was Meridian, located in Lauderdale County in the eastern part of Mississippi. The town's population prior to the yellow fever epidemic was approximately three thousand. Local officials had taken prompt action, enacting early in the epidemic a pedestrian quarantine so severe that one contemporary stated that even a rat "could not get through without being detected." Perhaps as a result of the tight quarantine, Meridian had been "remarkably healthy" before the first week of October.2
In Meridian, as elsewhere in Mississippi, racism was deeply embedded in reporting about the disease, perhaps all the stronger for the experience of Reconstruction. Thus officials ignored the first yellow fever death, on September 24, that of the African American Lewis Carter. It was only when a white man, John Etheridge, died on September 28 that health officials acknowledged the fact that the city was experiencing yellow fever infection. Carter's case did not propel Meridian's health officials into action, but Etheridge's did. Etheridge had
Download


Copyright Disclaimer:
This site does not store any files on its server. We only index and link to content provided by other sites. Please contact the content providers to delete copyright contents if any and email us, we'll remove relevant links or contents immediately.