Midnight Seduction (Midnight Dynasty Book 1) by CR Robertson
Author:CR Robertson [Robertson, CR] , Date: September 23, 2021 ,Views: 91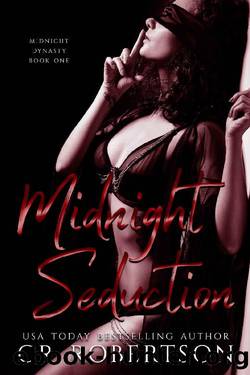 Author:CR Robertson [Robertson, CR]
Language: eng
Format: epub
Published: 2021-02-25T18:30:00+00:00



***
Chapter Twelve
Xavier
Our shoes on the hard floor created our own theme music as we strode through the old warehouse. In jeans and dark T-shirts, we looked like we were on holiday instead of here to visit a scumbag who'd disrespected my family.
An over-muscled goon stepped out to block our path, but Jordan had him on his back in a few seconds with a spinning kick to his neck. The guns in the back of our jeans were a weapon of last resort because we'd honed our bodies as weapons since we were children.
We didn't need to ask who the boss of this operation was, as we'd already seen his photograph. He sat among his men, trying to blend in and appear nonchalant.
I pushed my sunglasses on top of my head and stared directly at him. "Lucas asked us to drop by and remind you that you forgot to pay him for your last shipment."
Marco's jaw tightened, his fingers discreetly flicking to indicate his men spring into action. The click behind me told me that Jordan had pulled his weapon before anyone got ideas of how this was going to end.
"My friend would prefer that this ended with everyone in this room dead," I said in a cold tone. "He's a busy man and doesn't want to have to come back here if you renege on your deal. I would advise that you don't give him a reason to paint the walls with your brains."
An asshole to my left tried to attack me, but Ash's arm flashed out to jab his throat, pinning him to the floor before he got halfway across the room. The loud crack drew everyone's attention as Ash broke his arm.
"That wasn't clever," I chided him, glaring at Marco in disgust. "Pay your debts or next time you won't see us coming. The authorities will have to piece you together to perform a post mortem on you."
"Fuck you!"
Keeping my eyes fixed on him, I stalked across the room, slowly drawing the gun from the back of my jeans. A dark smile played on my lips as I slowly brought it up to his forehead. "No thanks, you're not my type."
Guns were not something to be messed about with. If you carried one, you needed to know how to use it and when you were prepared to kill someone. Murder left a taint on your soul, no matter how evil the bastard was you sent to hell.
His eyes focused on the gun as I cocked the hammer, his fingers digging into the chair he sat in.
"Be sensible," I coaxed. "Lucas is not the sort of man you want to cross. You really don't want another visit from us."
I pulled the trigger and his eyes squeezed shut, his body rigid. The chamber was empty, but the second in my revolver wasn't. This visit was designed to scare them into behaving. Did he really think I'd get his brains on my favourite biker boots? Swivelling on my heel, I marched toward the door, tucking my gun into the back of my jeans.
Download


Copyright Disclaimer:
This site does not store any files on its server. We only index and link to content provided by other sites. Please contact the content providers to delete copyright contents if any and email us, we'll remove relevant links or contents immediately.