Laughed 'Til He Died by Carolyn Hart
Author:Carolyn Hart , Date: January 14, 2021 ,Views: 20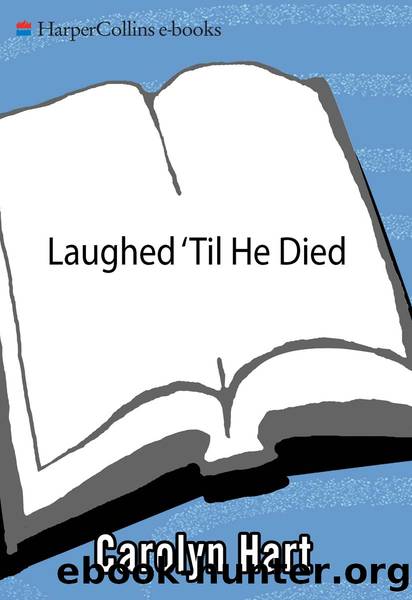 Author:Carolyn Hart
Format: mobi, epub
Publisher: HarperCollins
Published: 2010-04-06T22:00:00+00:00



LAUREL REMINDED HERSELF to keep her thoughts on her goal, though it was difficult with dear Johnny so near. How lovely to be a woman and how enchanting to have such an attractive man pressing close. He was such a help with her follow-through. Such a gorgeous young man…This was not the moment for thoughts such as these, however.
"…If you turn your left wrist a little more, that will add loft to the ball." He was lithe and athletic. Dark curls framed a matador-handsome face that reminded Laurel of Spanish grandees.
Laurel looked up, her lips curving into a smile. She knew she was at her best on a sunny summer afternoon, her hair a shimmering gold, her dark blue eyes softly glowing, her lips inviting.
Johnny Rodriguez took a deep breath.
Laurel understood. She gave a tiny shake of her head. "It is hard sometimes to focus on the game."
"Your wrist…"
"Someone told me that poor Van has had the hardest time lately keeping his mind on golf. Someone told me he was furious with Booth Wagner." She arched golden brows in delicate inquiry.
Johnny looked appalled. "Who's talking about Van?"
"Oh, everybody." She was charmingly vague. "You know how interested people are in love affairs."
"Look, it isn't how it looks." He was quick to defend his boss. "I mean, he and Neva were through. It was making him crazy. See, she broke things off because of this prenup agreement. I mean, she and Booth were kaput and had been ever since the kid got hurt. She was feeling pretty grim and Van was really nice to her and he thought they could work something out. I mean, he got it in the gut from his ex-wife. She took up with a drummer and walked out on him. But if Neva tried to get a divorce, she wouldn't get anything and she'd lose health insurance and her kid still needs another couple of operations. So, it doesn't do any good for Van to be mad. She had to make the choice and she stayed with the money. Seems to me, he's better off. If a woman wants money more than she wants love, that's a lousy deal for a guy."
Laurel murmured, "Life can be so difficult." Of course, death sometimes made everything simple. Possibly it had occurred to either Neva or Van that Booth's death made certain Neva would receive whatever had been due to her under the prenuptial agreement. Likely the agreement provided nothing if she left him for another man. "Now, show me again," she moved closer to Johnny, "just how do I turn my wrist?"
Download


Copyright Disclaimer:
This site does not store any files on its server. We only index and link to content provided by other sites. Please contact the content providers to delete copyright contents if any and email us, we'll remove relevant links or contents immediately.