Innovations in Derivatives Markets by Kathrin Glau Zorana Grbac Matthias Scherer & Rudi Zagst
Author:Kathrin Glau, Zorana Grbac, Matthias Scherer & Rudi Zagst , Date: August 1, 2020 ,Views: 211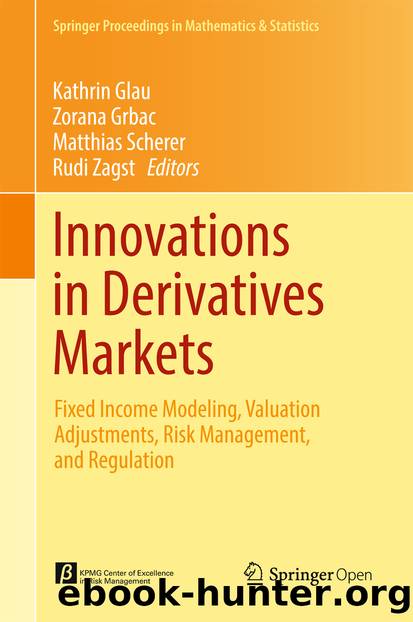 Author:Kathrin Glau, Zorana Grbac, Matthias Scherer & Rudi Zagst
Language: eng
Format: epub
Publisher: Springer International Publishing, Cham



(8)
Recall that, for simplicity of exposition, we consider a single Libor for a single tenor and so also a single fictitious bond. In general, one has one Libor and one fictitious bond for each tenor, i.e. and . Note that we shall model the bond prices , for all t and T with , even though only the prices , for all T, are needed in relation (8). Moreover, keeping in mind that the bonds are fictitious, they do not have to satisfy the boundary condition , but we still assume this condition in order to simplify the modeling.
To derive a dynamic model for , we may now derive a dynamic model for , where we have to keep in mind that the latter is not a traded quantity. Inspired by a credit-risk analogy, but also by a common practice of deriving multi-curve quantities by adding a spread over the corresponding single-curve (risk-free) quantities, which in this case is the short rate , let us define then the Libor (risky) bond prices as
Download


Copyright Disclaimer:
This site does not store any files on its server. We only index and link to content provided by other sites. Please contact the content providers to delete copyright contents if any and email us, we'll remove relevant links or contents immediately.