Fake Wife by Berri Fox
Author:Berri Fox [Fox, Berri] , Date: January 14, 2021 ,Views: 26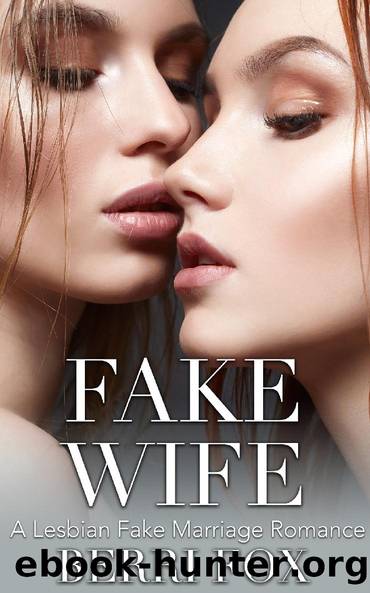 Author:Berri Fox [Fox, Berri]
Language: eng
Format: epub
Publisher: It's Her Books
Published: 2020-03-18T23:00:00+00:00



Nineteen
Jean
For the whole trip home, Mel and I talk. The lunch really loosened her up and my heart is doing huge constrictions thinking about the possibility of being with this woman for the rest of my life.
I tell her all about the grandmas and their stories, leading on to the younger ones, cousins and second cousins.
"That was just the small get together." I say casually, not even thinking too much about it. "The big one is in another few months, although the wedding will probably take its place."
"The big one?" Mel asks with round eyes.
"Yeah. That was only about a quarter of the family. Maybe even less."
I can see her doing calculations behind her pretty blue eyes and I reach out and take her hand, trying to reassure her.
"This is why it's so important, Mel." I have to make her understand. "It's not just me and it's not even the charities. The whole family is depending on me. It's just sick how the uncles and their wives kept this a secret so they could cut me out. It will hurt everyone, every generation. I can't let this happen."
"No." She whispers, looking out the window. "We won't let it happen."
We are starting to enter the city limits and I can feel her slipping away from me again. I want to grab her hand, beg and plead with her. I can't. I don't know if I could take her rejection. If she pulled her arm away, yelled at me to get off, it would kill me.
I watch her beautiful profile as it turns away from me, framed by her gorgeous pale blonde hair. Today was perfect. It wasn't a show to me. I was overjoyed that she was opening up again. This is the woman I loved from the first few seconds of conversation.
The energy between us is unmistakable. I would swear to it. But if I am right, how does she pull away from me like this?
I want to bawl my eyes out. Today has just been too much for me. The stress of this morning, Mel coming home late and forgetting about the lunch. The entire journey there, my guts practically eating themselves because I was sure we were going to screw the whole thing up.
Then Mel, turning into someone else. Mel laughing and joking, holding my hand.
Mel looking into my eyes as if I am the most important person in the world.
Surely, no one could fake that.
I draw away from her, almost curling into the corner. Maybe I really do need a good cry. A hot bath, a massage… Those things might make me feel better. I don't want to take the edge off, though. The only thing I want to do is scream at her until she tells me the truth.
I wish I was courageous enough to put myself out there. To say hey, this marriage could work. Talk to me. Let me see that woman I met before we ever even went to the Nook. Before I got scared of you and you started running away from me.
Download


Copyright Disclaimer:
This site does not store any files on its server. We only index and link to content provided by other sites. Please contact the content providers to delete copyright contents if any and email us, we'll remove relevant links or contents immediately.